By Shelley Grieshop
sgrieshop@dailystandard.com
COLDWATER -- Dreams do come true, just ask Adam Dysert.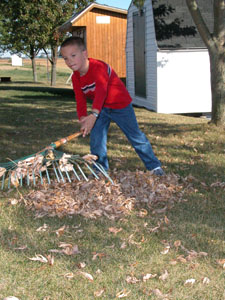 His parents, Brian and Teresa Dysert of Coldwater, won't argue the point. There was a time they didn't dare dream their oldest son would ever ride a bike. This weekend he'll be riding roller coasters.
The second-grader has overcome a heart problem that could have ended his life at birth and will leave Saturday to visit Disney World with his family -- thanks to the Make-A-Wish Foundation.
"We watched another video about Disney the other night and Adam kept saying 'I love this place, I love this place,' " Teresa Dysert says. "He's so excited."
Born with a congenital heart defect nearly eight years ago, Adam immediately underwent open heart surgery. After doctors nicked a nerve in his vocal cords during surgery, he spent the next three years with a tracheotomy. His parents weren't sure the now scrappy little boy would survive or ever have the chance to grow up like a normal child. But Adam did, and he's taught everyone around him how precious life is, his mother says.
"He still goes to the cardiologist twice a year and we were just there in June," says Teresa Dysert. "He gave Adam the go-ahead to ride anything he desires at Disney World."
Last year, 55 Ohio children with life-threatening illnesses were granted special wishes through Make-A-Wish. Two of those youngsters were from Mercer County. The foundation not only caters to children with terminal illnesses, but also those like Adam, with life-threatening health issues.
Although Adam has come a long way, he was disappointed last year to discover he couldn't run quite as fast as the other kids in his class. His parents helped him understand the limitations of his "special heart."
"We told him someone has to be first and someone has to be last and it's more important to do your best," his mother said.
Adam not only rides bicycles these days, he is a Cub Scout and is about to begin bowling on a league team at the end of the month. He's not interested in soccer, "and that's fine with me," his mother said with a laugh.
He's had frequent bouts of strep throat and may need to have his tonsils removed in the near future but that's minor compared with his first three years of life.
Adam wants to go swimming in the Florida sun and says he can't wait to try the "test track ride," a race track simulator at Disney. He can't stop talking about the amusement park's "real fast" indoor roller coaster, although his parents plan to screen both rides before giving the final OK, they said.
Teresa Dysert said officials from Make-A-Wish will arrive at their Betty Lane Drive home today to provide details of their trip. A limousine will pick the family up at 4 p.m. Saturday and take them to the airport to begin their six-day trip.
Friends and relatives are invited to the house to give Adam a send-off shortly before the 4 p.m. departure.
As he crosses another day off the calendar at home, Adam bounces up and down as his mother videotapes the moment.
"My dream is coming true," he says with a grin.
Phone: (419)586-2371, Fax: (419)586-6271
All content copyright 2004
The Standard Printing Company
P.O. Box 140, Celina, OH 45822