By Janie Southard
jsouthard@dailystandard.com
What happens when the teacher isn't on the scene? If it's Dave Borger's Tri Star construction class the students keep on sawing and hammering as they build the ranch-type house that will be auctioned in the spring.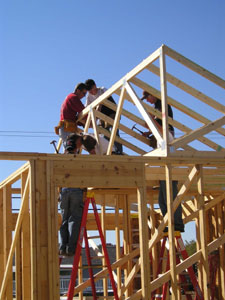 But, there's a difference. Along with substitute teacher Bill Simon, several of Borger's former students have volunteered to come out and oversee the building.
Rose Construction's Joe Rose, Celina class of 1990, and Mark Steinlage, Celina class of 1999, both learned building in Borger's class and responded to the school's call for help to keep the house project on track. Jeff Garman, class of 2003 and now a Celina firefighter, also has taken time from his schedule to help out.
Borger suffered a heart attack on Sept. 20 and has since undergone heart surgery. "He's doing real well. In fact, he may be back at school Monday," Simon said at the house site on Wednesday.
The house currently under construction is the 20th Tri Star has built. Rose worked on the sixth house and learned a lot from his teacher. "Mr. Borger is real picky. If it isn't right, you might as well take it apart and start again. I'm that way with my own business now. It's just not worth the gamble of a bad job," Rose said.
It's only seniors who do the actual building. The juniors spend the year in the classroom learning safety, how to keep the building square and actually constructing a small house model at school.
Some of the seniors at the house site said they intend to go into the building trades.
"I'll tell you one sure thing," Rose said. "Having Tri Star experience makes you worth more money when you go for a job."
Tim Buschur, Tri Star director, had nothing but praise for Borger's former students.
"It's just great they would volunteer their time and talent to help out. They all liked the class when they took it and they didn't want anything to happen to it," Buschur said.
Phone: (419)586-2371, Fax: (419)586-6271
All content copyright 2004
The Standard Printing Company
P.O. Box 140, Celina, OH 45822