By Janie Southard
jsouthard@dailystandard.com
NEW BREMEN -- Lock One on the old Miami Erie Canal will get a $400,000-plus facelift funded in part by a Ohio Department of Transportation grant, which was recently approved for the village.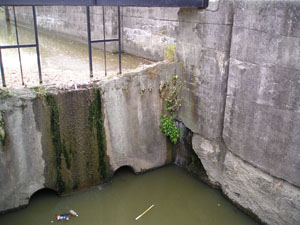 "There's a lot to do before we can get going on the construction. For one thing, since we'll have to completely tear down the old structure so we can build a new lock, we'll have to determine how and where to reroute the canal water," Village Administrator Larry Durkee told The Daily Standard this week.
The $350,000 grant requires match money of 20 percent, or $70,000, toward which the New Bremen Historical Association will contribute through a series of fund-raisers.
Built in the mid 1800s, the old lock has been steadily crumbling during the past several decades even though boat traffic ceased about 100 years ago. The grant money will be used to rebuild the lock to look similar to its original construction.
But, this is far from the only renovation/improvement going on along the 250-mile canal, according to L. Neal Brady, executive director of the Miami & Erie Canal Corridor Association (MECCA). The canal flows from Lake Erie to Cincinnati. "This will do a lot to make New Bremen a premier canal town," Brady said this week as he noted a number of other projects underway in canal towns.
The New Bremen New Knoxville Rotary Club is planning a park area near Lock One, just north of Monroe Street, which will include various walkways.
Delphos, which already has a canal museum and restored canal boat, is undertaking some renovations and upgrades to the canal.
During the past few years, Spencerville has completed canal dredging and is adamant about keeping the town's section clean, Brady said.
Recently restored Lock 14, part of the Heritage Trail Corridor, soon will be the site of a new parking lot for visitors who want to hike along the canal's towpath.
Two miles of compacted stone will freshen up the towpath between Glynwood Road and Lock 14.
"Much of this restoration is being done by the Ohio Department of Natural Resources, Division of Water," Brady pointed out.
Below St. Marys a grass trail runs along the canal to New Bremen. Brady said the trail is passable, but renovation is a couple years away.
Brady also said Shelby County has opened "quite a bit of trail thanks to volunteers building bridges" and clearing paths.
Lockington Locks, a series of five canal locks just north of Indian Agent John Johnston's old farm in Piqua, is scheduled for restoration in the not too distant future.
"Plus, Route 66 from Piqua has been named a scenic byway by the state, which is a marker for tourists, because of this unique area along the canal corridor. This is certainly an exciting time for canal towns," Brady said.