By Gary R. Rasberry
grasberry@dailystandard.com
COLDWATER -- It might be five weeks until the state holds its cross country championship races at Scioto Downs, but Coldwater's Lions Invitational could boast a possible preview.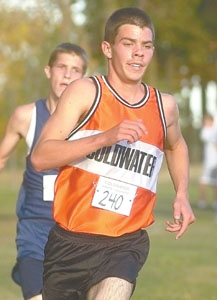 The annual Gene Weber Lions Invitational brought four of the top 10 girls teams in Division III together for a competition.
If the results are any barometer for what it will be in the first weekend in November, it should be a dandy.
Versailles, the defending Division III state champs, held back the teams that finished third and second respectively last season in winning the team title in this year's race. The Lady Tigers won the title with 45 points with Minster (third last year at state) taking a distant second with 130 and Fort Loramie (runners-up) third with 143. Division II state-ranked Van Wert finished fourth.
In the boys varsity race, Versailles and Coldwater dueled in a preview of next week's Midwest Athletic Conference race at Coldwater. The Tigers placed first with 95 points. The Cavaliers were the second MAC team across in fifth place with 195 points. Between those 100 points, WBL contender Shawnee, state-ranked Fort Loramie and Lehman came in second through fourth. Pack running was the key to the Versailles girls winning the title. Minster's Brigette Sherman won the race in 19:02.35 but three of the next five runners were clad in Versailles black and white. Kristen Smith came in second with teammate Caitlin Smith fourth and Kristen Grilliot fifth. The Tigers had their top five scoring runners in the top 20. Minster managed to just get two runners in the top 30.
"Honestly, they blew me away tonight. They shocked me," said Versailles head coach Mark Pleiman. "There were girls who took a minute off their personal records. For the girls, the top seven times throughout the year go on to postseason. I think some of them realized that they had this (the Lions) and the MAC left. They did it tonight. Wow!"
Sherman was in good control of the race, crossing the line nearly 22 seconds ahead of Smith.
"I had a very good run," said Sherman. "... I think it's awesome that we have this meet right before the MAC. You get to see how you'll place. If you didn't get the place you wanted, you can improve."
Minster coach Jessie Magoto was not totally pleased about her team being 85 points back of Versailles.
"I was pleased with Brigette. She's been running awesome," said Magoto. "We have a lot of work to do. We weren't as strong as we have been. This week was a real determiner to decide what we want to do for the future. We have the talent."
The boys race was won by Coldwater's David Wilker, who took 10 seconds off his time from last year to cross the line in 16:16.24. Wilker was pushed by Lehman's Tony Reiss, who eventually came in at 16:33.24.
Wilker, who set a school record in a dual meet at Wapakoneta a week ago with a 16:03, was very happy with his run on Thursday.
"Competition-wise, there's a lot here," said Wilker. "We like it as a tuneup for the MAC next week. There was a point on the backside of the park, I looked over my shoulder and (Reiss) was still there. After that, I told myself to forget it. Mr. Schwieterman (retired longtime Cavalier coach Hank Schwieterman), always told me never to turn around. I just focused to keep going and keep the pace."
Pleiman was very happy with the Tigers taking the boys title.
"Very solid run," said Pleiman. "We're still nursing (some injuries) with our fifth runner today. We felt pretty good. Our top four guys were in the 17:30s and below. That's what it's going to take for us to do what we want to do. We had a lot of fun today.
"This is tougher than Tiffin (the Tiffin Carinval, which brings in teams from all over the state). ... The field out here is amazing. I was talking to the other coaches and it's amazing what the MAC as a conference can do here and what they have brought to cross country the past couple of years."
Coldwater coach Dan Pohlman was pleased with his team's effort.
"We knew coming in there was a lot of tough teams," said Pohlman. "The guys did well. We finished fifth and that was respectable considering the competition. It was good preview for next week, although we're Division II and Shawnee was second today and in our district. It was nice. We know Versailles, they're a top-notch team. We need to pack our guys up more."
In the junior high races, Lincolnview won the boys title and Minster took the girls title. St. Henry's Doug Ranly won the boys' two-miler while Minster's Bernadette Burke captured the girls race.
The MAC race will be at Coldwater on Thursday starting at 4:45 p.m.
Phone: (419)586-2371, Fax: (419)586-6271
All content copyright 2004
The Standard Printing Company
P.O. Box 140, Celina, OH 45822