By Shelley Grieshop
sgrieshop@dailystandard.com
Soft music plays in the corner of the crowded workshop as Teresa Tolan uses her wooden loom to weave another row of a blue, green and maroon rug.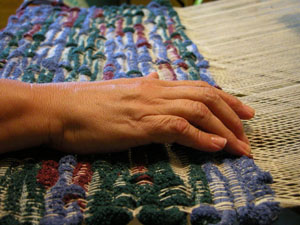 "I can't sit still. I guess I have a lot of nervous energy," laughs Tolan, 56. "This is very labor intensive. Keeps me out of mischief."
Tolan of rural Celina "sort of inherited" her Union Loom Works loom two years ago from her godfather, Albert Heckler of Celina. Heckler had purchased one for his mentally-challenged daughter years ago, and Tolan had watched her work the foreign-looking machine.
"I was fascinated, just fascinated," says Tolan, who several years ago worked at CA Industries in Celina where the antiquated craft was being performed by clients.
Heckler himself took over the hobby when his daughter lost interest but health problems made him give it up, too. So he called Tolan one day and asked if she still wanted the 4-foot square contraption. "I said of course, but he made me promise to keep the rug header and space header fabric intact on the loom," she says.
Tolan's eyes fill with tears as she explains the permanent pieces she promised to keep on the front of the loom are pieces of her grandmother's dress and apron.
"It always makes me feel that she's near," she says.
Looming rugs, for Tolan, is all about recycling the old to make something new. Although she does purchase some of her material from Leesburg Looms and Supply in Van Wert, much of it comes from old rags and clothing.
"Old worn out blue jeans make the sturdiest rugs, they turn out hard as iron," says Tolan, as she cuts one-inch wide strips from an old pair on the workbench.
To create handmade Colonial or rag rugs is like putting the pieces of a puzzle together.
The threads running lengthwise on the loom are called the warp; the ones that cross it are called the woof. Each time a loomer changes the pedal, also called treadle, beneath the loom, the direction of the thread changes to trap the material.
Scrap strips are first sewn together and wrapped around a wooden shuttle held by the weaver while sitting in front of the loom. The material or filling is distributed tightly across the loom where the threads crisscross. Then the upper harness (wooden railing) is pulled, trapping the scrap material between the woof and the warp, and another row is complete.
Simple, huh? Not at first anyway, says Tolan, a mother of four and grandmother of two. After about two years, it still takes her nearly four hours to complete an average rug of 26-by-29 inches. It also takes time beforehand to re-thread the machine to change thread color -- a job that husband, Jim, assists with.
Some of Tolan's rugs have a crocheted-looking edge that the "recycle queen" creates from excess threading. Looming, she believes, is a good way to use over and cherish pieces of the past. She once created a rug from silk ties that were given to a school teacher, as a joke by other teachers, each year for 25 years.
"They made a nice silk rug," she laughs.
The rugs last several years if washed correctly, she says. They can be thrown in the washing machine in cold water or gently handwashed, then line dried.
Tolan makes rugs for friends and family and is contemplating going full-time into business. She currently works as a part-time substitute teacher for special needs students at Fort Recovery Local Schools.
"I guess it's kind of a rags to riches endeavor. I like the quiet time, I do a lot of thinking when I'm out here," she says, as another colorful row appears on her work in progress. "I still find the whole thing fascinating."