MINSTER -- The Coldwater Cavaliers, the number one-ranked football team in Division IV in the state of Ohio, rallied from a seven-point deficit and scored twice in the final eight minutes to defeat the Minster Wildcats, 27-21, in Midwest Athletic Conference action Friday night at Memorial Field.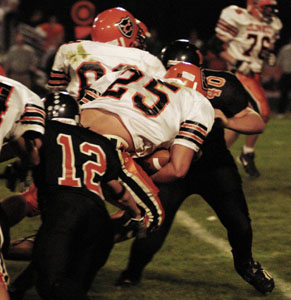 Coldwater remains undefeated in the conference at 5-0 and stays perfect at 7-0 overall. Minster falls to 2-4 in the MAC and 3-4 overall.
"We knew that Minster would come in here and play a lights out game," said Coldwater coach John Reed. "We knew that Minster would give us their best shot as they were playing for their playoff lives and they played that way and it is a credit to the Coldwater Cavaliers to take their best shot and still come out of here with a win.
"It was very frustrating for us a lot of the time tonight," continued Reed. "The kids held up and we were able to win."
Things looked bleak for Reed's boys early in the fourth quarter as Minster running back Brian Hoelscher capped a 57-yard, eight-play drive with a one-yard touchdown run on the fifth play of the fourth quarter to give the Wildcats a 21-14 lead after Brendan Whitford's point after. Events took another step backwards for Coldwater's two plays after Hoelscher's touchdown as Alex Stricker picked off a Steve Borger pass and returned the ball to the Coldwater 15.
After two runs by Ty Parks moved the ball to the 13, the tide of the game took a dramatic turn as Coldwater sophomore linebacker Joe Wermert picked off a Ty Parks pass and motored 94 yards the other direction to tie the game at 21 with 8:03 left in the game.
"Joe Wermert is a sophomore who has played all season with a torn bicep in his arm and he his one of the most talented kids in program and he is only a sophomore," said Reed. "The interception was huge, no question about it and it turned the game around."
"We played a great football game and I think it came down to a poor coaching decision on my part," said Minster coach Whit Parks. "When we threw that pass that was intercepted we should of just ran the football, kicked the field goal and gone up by 10. This burden is on me and not the kids because they played their butts off."
Minster had a legitimate chance to retake the lead as it moved the ball to the Coldwater 36 with just under three minutes left. Four carries by Ty Parks netted four yards with Ross Homan stopping Parks on a fourth-down carry at the 34.
With just 1:51 left, the Cavaliers quickly moved down the field for the game-winning score. On first down, Homan rumbled for 15 to the 49. After two incomplete passes, quarterback Steve Borger hooked up with running back Kyle Schoenherr on a 49-yard scoring strike for the game-winner with 1:09 left.
"I know it is a cliche but our character showed there in the fourth quarter," said Reed. "It sure helps that we have been in a lot of big ball games, not that Minster hasn't, and to know that we have been in this spot before and be able to make the play, that really helps."
Minster came out of the gates quickly to start the game as it scored on its first possession of the game as Ty Parks hooked up with his brother Troy for a 70-yard scoring pass to take a 7-0 lead just 2:09 into the game.
Coldwater tied the game midway through the second quarter as it took advantage of some great field position at the Minster 45 and went the distance in six plays with Homan covering the two yards to tie the score at seven.
Minster closed the first half in a huge way as it went 66 yards in eight plays in 64 seconds to take the lead, 14-7 at the half, as Ty Parks hooked up with Dane Sommer on a seven-yard scoring pass.
Coldwater came out in the second and scored on its first drive as it went 80 yards on 12 straight running plays with Homan capping it off with a two-yard run.
On the night Homan gained 133 on 12 carries.
Ty Parks ended up 11-of-18 through the air for 189 yards.
Coldwater returns home on Friday to play Versailles. Minster takes to the road, traveling to St. Henry.
Phone: (419)586-2371, Fax: (419)586-6271
All content copyright 2004
The Standard Printing Company
P.O. Box 140, Celina, OH 45822