By Ryan Hines
rhines@dailystandard.com
ST. MARYS -- St. Marys Roughriders fans got good news on Friday night.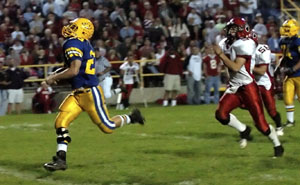 After watching St. Marys knock off Kenton, 33-15 behind a strong running game totaling 302 yards, Roughrider fans went wild after hearing that Van Wert defeated Shawnee, putting the Blue and Gold back into a first-place tie atop the Western Buckeye League standings.
St. Marys improves to 6-1 overall and 5-1 in the WBL, tied with Shawnee (6-1, 5-1 WBL) for first in the league, while Kenton falls to 4-3 overall and 4-2 in the WBL.
"Obviously our kids weren't happy after losing last week, but I couldn't be more proud of my kids for the way they played tonight," said St. Marys head coach Doug Frye. "They came to practice with a bold lip and were ready to go. It's certainly not a disappointment that Shawnee lost. We kind of thought, and this is no cut on Shawnee, that the league was so balanced that they would lose a game because of the teams they had left to play."
Frye was obviously happy with the Shawnee loss, but he was also ecstatic to see a breakout game from running back Justin Nagel who had struggled in recent weeks holding onto the football. Last week Nagel fumbled the ball five times and lost three of those in the one-point loss to Shawnee, but against Kenton, Nagel ran for a season-high 132 yards and scored three touchdowns while not fumbling the ball at all.
"I actually benched him at the beginning of the game and put the challenge on his shoulders and it's nice to see a young man accept the challenge and run the ball the way he ran it tonight," lauded Frye. "We saw what Justin is capable of and I'm real proud of him. When he runs like that it adds a great dimension to our offense, a dimension that we have been missing until now and if we can't keep that dimension to our offense, it will make us that much more of a better offensive team."
Trailing 8-7 in the second quarter, Nagel scored twice in the second stanza, on runs of one and 26 yards, to put the Roughriders on top 21-8 at halftime.
Nagel's two second-quarter touchdown runs came via costly mistakes by Kenton.
Early in the second quarter, St. Marys was forced to punt the ball, but the Kenton returner muffed the punt and the Roughriders' Tim Rammel recovered the ball on the opponents' 26-yard line. Six plays later, Nagel surged into the end zone from the one-yard line to give St. Marys a 13-8 lead, following a failed two-point conversion.
Kenton's defense then held St. Marys to an apparent three-and-out on an incomplete pass on the next Roughriders possession, but Wildcat defender D.J. Burris committed a personal foul by hitting quarterback Corey Vossler after the play giving the home team an automatic first down.
St. Marys took advantage of the opportunity when Nagel capped an eight-play drive with a 26-yard touchdown. Nagel ran in a two-point conversion and St. Marys went to the half with a 21-8 advantage.
On its first possession of the second half, St. Marys put together a vintage Roughrider drive as the Blue and Gold executed a 12-play drive, 11 running plays, capped by a thee-yard score from Bo Frye. Another failed two-point conversion play by St. Marys left the Roughriders with a 27-8 lead. Frye, the WBL's leading rusher, ran the ball 30 times on the evening for 105 yards giving him 910 on the season yards on the season.
Kenton fumbled the ensuing kickoff giving the ball back to the Roughriders, but the Wildcats defense finally stopped St. Marys after a turnover on downs at the Kenton 31-yard line.
Wildcats quarterback Braden Spivey ignited the Kenton offense on its series by completing a 33-yard pass while a St. Marys pass interference play moved the ball down to the Roughriders' 20-yard line. From there, Spivey took the quarterback draw and weaved in and out of the St. Marys defense before finding paydirt to pull the Wildcats within 12 points at 27-15.
Kenton looked to be right back in the game when Spivey threw a 20-yard touchdown pass, but the play was called back following offensive pass interference. After an incomplete pass left Kenton with a fourth-and-22 situation, the Wildcats ran a quarterback draw sending the visiting fans into a frenzy after gaining just five yards.
"It was a poor call by me because I didn't know that it was fourth down or I would have elected to throw the ball," admitted Kenton head coach Mike Mauk.
Mistakes cost Kenton all night long as they committed four turnovers (three fumbles, one interception) and committed nine penalties for 95 yards, with three 15-yard personal foul penalties in the mix.
"You can't make the type of mistakes that we made tonight and expect to beat a good team like St. Marys," explained Mauk. "They made big plays when we made mistakes and that's why they won the game."
Nagel put an end to any Kenton rally when he burst through the line for a 57-yard touchdown run with 4:48 to go in the game to cap the scoring.
St. Marys is back in action on Friday at Elida.