By Shelley Grieshop
sgrieshop@dailystandard.com
COLDWATER -- A child's duffel bag decorated with Disney characters lay squashed between a green flowered suitcase and a box of small, stuffed animals on the basement floor of the former convent building.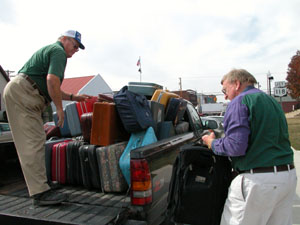 "Look, a hair dryer," said Tom Thomas, as he emptied another box in a seemingly never-ending pile of donated items for the homeless.
Small windows allowed little light into the adjoining room where dozens more suitcases and backpacks were filled and zipped, ready to be heaved onto a waiting pickup truck outside.
Kiwanis members from Coldwater and St. Henry this year chose the St. Vincent Hotel for the Homeless in Dayton as recipient of this year's "Make A Difference Day" project. For the last few weeks, church bulletins and flyers promoted the charitable collection of suitcases, toiletries, blankets, clothing, games and school supplies.
Sunday was the last day of the drive. "We just started collecting Labor Day and look at all of this," Coldwater Kiwanis member Larry Wolf said in disbelief.
Fellow member Floyd Winner piled suitcase after suitcase onto the bed of his pickup truck -- the third such load he's taken to the homeless shelter in the last few weeks. And not all the items had yet been delivered from the collection points to the Main Street building.
"I wish we had a bigger truck that could take everything at once," said Gary Bruns, a local business owner and longtime Kiwanis member in Minster and Coldwater.
The amount of luggage collected was a real surprise to everyone. One generous resident came up with more than two dozen pieces from his attic.
"Today, everyone wants the kind with wheels," Thomas laughed.
Coldwater Kiwanis member Marilyn Darr said she visited a homeless shelter in Columbus several years ago and knows how valuable these items are to the needy.
"My first thought when I saw all the things we collected was, 'We are people who have a lot more than we need,' " she said.
Thomas agreed.
"We're here and they're there by chance. We don't always realize how lucky we are," he added.
Winner said the reaction he gets when he delivers the donations makes the trip worthwhile.
"They usually look at me and say, 'Wow, where did you get all this stuff?' It gives you a good feeling to see people appreciate things that otherwise would end up at the junkyard," he said.
Sister Karen Sammons, director of the Dayton shelter, said the suitcases are distributed to individuals who leave the shelter.
"Most of the guests who come here keep their belongings in trash bags. It's much more dignified to walk down the street with a suitcase and much easier for them to be accepted back into society," said Sammons, 62.
The shelter is always overcrowded and in need, she said. The two-story building is filled with 68 single men ( 18 over the limit), 25 single women (17 over), eight families and 14 children.
Beginning Nov. 12, the Montgomery County Democratic Party headquarters across the street will again take on the overflow as they do each fall, she said.
"This area has the same number of homeless people all year long, but many live beneath the stars until it gets cold outside," she explained.
Caseworkers meet with each person who stays at the shelter, helping them get back on their feet and establish housing. If the individuals don't make the effort to help themselves, they're out in 30 days, Sammons said.
Guests get a hot meal and shower in the evening and breakfast in the morning before they depart. No one stays during the day.
The shelter is funded through private donations, several grants from foundations, and some city and county monies.
Eighteen full-time employees help run the center. The shelter, which opened in 1985, is moving in February to a much bigger building on the south side of the city, she said. Space will increase from 14,000 to 45,000 square feet.
Sammons, who has operated the shelter for 51Ú2 years, said she is thankful to the people who give to others so generously.
"The way the economy is, you never know who's going to find themself homeless some day," she added.