By Shelley Grieshop
sgrieshop@dailystandard.com
NEW BREMEN -- Two Marion Local High School juniors were killed Wednesday morning when their car skidded out of control on wet pavement as they were returning to school from Tri Star classes in St. Marys.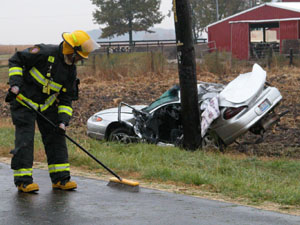 The driver of the car, David A. Gerlach, 16, 53 E. Wayne St., Chickasaw, was pronounced dead at the scene on County Road 66A, just south of Clover Four Road.
Gerlach is the son of Terry and Teresa Gerlach.
Front-seat passenger, Corey J. Albers, 17, 2466 Stelzer Road, Maria Stein, was pronounced dead about two hours later at Joint Township District Memorial Hospital, St. Marys.
Albers is the son of Michael and Peg Albers. The accident was witnessed by several of the victims' classmates who were riding in another car.
Lt. Dan Lay of the Wapakoneta post of the Ohio State Highway Patrol said unsafe speed and a wet roadway caused the driver to lose control of the 2001 Pontiac Grand Prix. The car was southbound on County Road 66A when it left the right side of the roadway, continued through the grassy ditch and slid broadside into the pole, nearly encircling it. The back end of the car was eerily hanging several feet off the ground in the ditch; the pole remained intact.
Neither boy was wearing a seat belt and both were partially ejected from the vehicle. Their deaths mark the ninth and 10th traffic fatalities in Auglaize County this year.
New Bremen Fire Chief Bob Kuck, on the scene with the department, explained that oil at the surface of the newly paved county road likely became slick when mixed with the rain that was still falling throughout the morning.
Gerlach and Albers left the half-day machines trade class at Tri Star Career Compact in St. Marys at 10:05 a.m. and were reportedly headed to class at Marion Local Schools when the accident occurred.
Three classmates of Gerlach and Albers, also returning from the St. Marys Tri Star class, witnessed the accident while stopped at the stop sign about a quarter mile from the crash. The boys wandered aimlessly around the grizzly scene, frequently wiping tears from their eyes as they talked about the events that led up to the tragic loss of life.
"We took Clover Four and were waiting at the stop sign when they went by," said Josh Fleck. "I saw the back end of their car go flying ... I saw them hit the pole."
Fleck said Albers tried to get out of the car, but the boys and an unidentified woman kept him from moving. They tried to cover both victims with blankets.
"I didn't think they were going that fast," Fleck added.
Matt Evers, the driver of the second car, also was stunned and nearly too emotional to speak. After driving up to the accident scene, he worried the vehicle's gasoline tank, lying detached beneath the car, may explode.
"I grabbed the gas tank and threw it," Evers said, pointing to it in the field several yards away.
Tri Star Director Tim Buschur said earlier in the day Gerlach and Albers helped out immensely as eighth-graders from Minster and New Bremen schools toured the classrooms in St. Marys. Only in their first year of the two-year tool and die class, the boys acted professional as they showed the equipment to the youngsters, he said.
"Their teacher, Rob Meeker, said they were both super kids, a joy to have and very well mannered," Buschur said. "I've never dealt with this kind of thing before. We're all devastated."
Buschur said few students ride buses from their districts and it's always a fear that something like this will happen. School policy dictates that a student will lose their privilege to drive on their own if they are cited for traffic violations while driving back and forth to classes.
A prayer service for students and staff was scheduled to take place at the St. Marys school this morning with counselors on hand, Buschur added.
Gerlach's father, Terry, said his son loved the outdoors and enjoyed his job doing lawn maintenance for Minster Machine at a property near St. Marys.
"He wanted to save up money to buy a motorcycle, a pickup truck ... ," Terry Gerlach said, as he began to cry.
His son participated in baseball and football and enjoyed the Tri Star class.
"He wanted to work with machines like I do," said Terry Gerlach, his voice lost in tears. "He should be here with me now."
The Albers family of Cassella was trying to cope with the loss of a second son. Sixteen years ago their 4-year-old son died of cancer.
"We know what to expect as the holidays approach," Corey Albers mother, Peg, said this morning.
"Chubs," as their son was known to everyone, was a starter on the high school football team and had played baseball and basketball at the school, she said. A member of the 4-H Club Cassella Buckeyes, he showed hogs at the county fair each year.
"He would barely take time to eat and sleep fair week," his mother said. "And that was after he finished up football practice."
He earned the title "Kewpee Kid" with his broad smile, she said. He and friends planned to attend this weekend's homecoming dance without dates.
"They were going to go out to eat, go to church and then the dance," she said.
News of the accident swept quickly through the halls of Marion Local Schools. Superintendent Andrew Smith immediately summoned students and staff to the gymnasium to announce Gerlach's death. Hours later, news that Albers did not make it was relayed individually to teachers and their students.
"This has been a devastating day for our students and their families," Smith said Wednesday afternoon.
Both students were well-liked and respected, "never at a loss for words," Smith added. "They were two kids starting to emerge and come into their own."
The double fatality Wednesday marks the second time this year that Marion Local students and staff have dealt with the loss of one of their own due to a tragic accident. On Sept. 5, Renee Homan, 14, of Maria Stein, was killed in a traffic accident.
Counselors were on hand throughout the day Wednesday and would be available today, Smith said. A homecoming assembly scheduled to take place today, as well as the annual dance Saturday, was canceled.
It was the same sad circumstances that prompted Parkway Local Schools to cancel homecoming festivities at their school last week. Sophomore Brittany Shaffer, 15, of Mendon, was killed in a traffic accident in northern Mercer County on Oct. 5.
Smith said perhaps lessons on the responsibility of driving should be given to students long before they get behind the wheel of a car.
"But some say if they're too young they get desensitized," he said. "Could be kids are faced with too much responsibility, way too soon."