By Gary R. Rasberry
grasberry@dailystandard.com
Versailles and Coldwater: It's one of the oldest rivalries in the area with 45 games being contested since Coldwater started its program with a 20-6 loss to the Tigers back in 1936. Since 1973, the teams have faced each other annually during the regular season.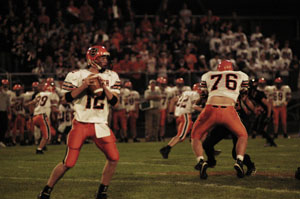 Over the past couple of seasons, the Midwest Athletic Conference championship has been a factor during this game. Last year, it was the Tigers earning the title with a 14-12 win at a rainy Hole Field.
Now the Tigers come up to Cavalier Stadium on Friday for the 46th meeting of the Battle of Orange. Versailles will look to keep its chances of a second straight league title alive after losing to Marion earlier this season. Coldwater will look to retain its perfect record intact with a possibility of sole possession of the league title
Versailles came into this season with lots of questions. Graduation took a huge chunk of the offense with the graduation of players like Kyle Gehle, Ben Shappie and Ryan McNeilan. Veteran coach Al Hetrick had to replace the entire backfield but was blessed with an experienced line returning.
The mix of youth and experienced worked as the Tigers jumped out to a 5-0 start before ending a 23-game winning streak to Marion Local in week six. The Tigers continue to use their number of weapons as a strength. Three backs have 230 or more yards rushing and three have 160 or more yards receiving.
Running the offense is sophomore Tony McNeilan The sophomore has completed only 39.8 percent of his passes this season (33-of-83), but his completions have been efficient, passing for 745 yards and eight touchdowns.
When passing, Matt Murphy has been the big target, making 10 catches for 293 yards and four touchdowns. Stephen Winner (eight catches, 168 yards) and Curtis Wourms (eight catches, 161 yards) also are threats to score through the air.
The Tigers still work with the loaded backfield on occasion, lining up in a full-house formation behind McNeilan. Senior Adam Francis has come into his own after backing up Shappie and Ryan McNeilan last season. Francis has 470 yards rushing and five touchdowns while Wourms is a strong runner as well, rushing for 419 yards and seven touchdowns, leading the team in scoring with 50 points. Russ Beisner takes the fullback role that Eric Strausbaugh played so well last season, rushing for 235 yards and four scores.
"The thing that jumps out in scouting reports and film is how strong and physical they are up front," said Coldwater coach John Reed, who is 5-4 against Versailles. "That's been their calling card over the years. The kids that are back from last year with experience are up front. Their physical presence and making the big plays is what most concerns you.
"They're going to give you many different formations. They're not necessarily going to run a lot of different plays, but they're going to make you lineup against different formations and then run their sound plays that those kids have been running since the seventh grade. They're very fortunate to have their seventh, eighth and ninth-grade running the same plays time after time. They just get better at it. Their diversity is the biggest thing," continued Reed.
Coldwater junior Steve Borger has shined this season in running the offense, passing for 1,140 yards and 13 touchdowns. Borger also retains the running option that other Cavalier quarterbacks have had, rushing for 220 yards. Junior Ross Homan is seeing more and more time on offense, leading the team with 422 yards rushing and eight touchdowns.
The receiving corps, which had one big returnee in Craig Wellman, remains a multiple threat. Wellman has 286 yards this season to lead the team but four other players have 128 yards or better this season. Brady Geier has 14 catches for 200 yards with Justin Kahlig coming on strong of late, making nine catches for 186 yards.
"They have a lot of speed," said Hetrick, now in his 37th season at Versailles. "Their quarterback is on target throwing the ball. The fullback and tailback can hurt you running (the ball). You have to defend the whole field against them. They move the ball all over."
Defensively, both teams have been playing strong this season. Coldwater continues to play stingy football, giving up an average of nine points per game with three shutouts. Versailles has allowed an average of 15.4 points per game but the offense has made up for the average number, averaging 32.6 points per game.