By Margie Wuebker
mwuebker@dailystandard.com
NEW BREMEN -- The Rev. John Tostrick is a man with two flocks.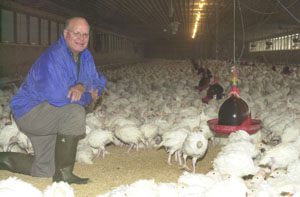 As minister of parish life, he serves the spiritual needs of the faithful at St. Paul United Church of Christ. As Auglaize County farmer, he tends to the physical needs of turkeys occupying three red barns at his 90-acre spread along New Bremen-New Knoxville Road.
The congregation realized two decades ago that the devout man joining the ministerial team was cut from a different cloth than previous pastors. He and his brother operated a dairy farm at the time.
Tostrick decided to strike out on his own several years later, considering such options as poultry and fish.
"Poultry sounded the most promising," the 60-year-old minister says. "I didn't have any background in either turkeys or chickens. It was a pretty big leap considering I started from scratch." Tostrick settled on turkeys as a contract grower under the auspices of Cooper Farms in Fort Recovery. He built the barns and provided the labor; the company supplied the rest including gobblers, guidance and wages.
One-day-old birds, known as poults, arrive by truck from the company hatchery resembling down-covered chicks. The 6,000 chirping tenants quickly take over the balmy starter house where thermometers register 84 degrees. Workers unload 300 poults at a time into 12-foot rings, each containing an infrared heater for an extra 30 degrees of warmth, eight feeders and four watering stations. Tostrick combines two rings on day three and poults have free run of the building by week's end. White feathers replace down around the same time.
"The first five days are critical to the poults' survival," he says. "The goal is to confine them in a close environment where they bump into feed or water wherever they go until eating and drinking becomes second nature."
At 5 weeks old, the term poult no longer applies to a turkey weighing 5 to 6 pounds and the time has come for a move to one of the larger finishing houses. Visitors often comment about the din emanating from the new home especially on moving day, pegging hens as the likely culprits. Tostrick quickly sets the record straight.
"We only raise toms or males that go to market at 20 weeks weighing over 40 pounds. These guys are too big for a standard oven. They will be processed into specialty products at the Cooper Farms plant in St. Henry.
"Eighteen years ago market weight was 26 pounds, but that has increased during the interim with the realization it doesn't really cost any more to process a larger bird."
The goal is to market at least 5,500 toms per flock, with the greatest number of deaths taking place during the first critical weeks. Losses average between three and five birds per day during the 20-week season. The operation can accommodate six flocks per year, with buildings remaining empty long enough to prepare for the next influx.
Tostrick spends mornings in the barns, checking feed lines and watering stations. He uses the time to pray and reflect on church matters. Ideas for sermons occasionally surface as he walks among the docile birds. However, he has yet to practice one of the meaningful messages for their benefit. They are too engrossed in eating, drinking, preening and establishing dominance in the pecking order to even notice an open door before 10 minutes elapses.
"I have referred to turkeys occasionally from the pulpit," he says. "However, not so often that I remember the references."
Karen Tostrick, who assists in the turkey operation as needed, can track her husband's progress without leaving the farmhouse. Shadow, the couple's Golden Retriever, certainly lives up to her name. She follows her beloved master dutifully and lays down outside the door when he goes inside. One glimpse out the kitchen window reveals their whereabouts.
A shower and a change of clothes prepares the father of two grown children and the grandfather of two young girls to spend afternoons tending to pastoral activities. He visits shut-ins as well as those in hospitals and nursing homes. Other duties include counseling the troubled, comforting the grieving and preparing services as requested by the senior pastor. He officiates at many funerals and occasionally a wedding.
The congregation eagerly shares turkey jokes with obvious delight. However, their interest and concern clearly show in the questions they ask. "Rev. John, how are your turkeys doing?" tends to be a common inquiry from young and old alike.
Tostrick considers himself a fortunate man blessed in more ways than one. He smiles broadly before adding, "I'm one of a few ministers around who can say I have a flock of turkeys and get away with it."