ST. MARYS -- As the conclusion of the 2004 volleyball campaign creeps closer, teams are beginning to measure their progress by the 'peaking' theory.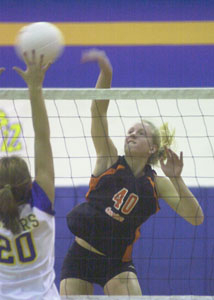 Within the final 5-6 games of the season, coaches can sleep a little better at night if their team is beginning to click on all cylinders. However, it can work just the opposite if a squad has more questions than answers as the end of October rolls around.
One of the hotter teams in the area right now are the St. Marys Roughriders and they looked to close the season on an upward note last night at home against the Coldwater Cavaliers.
After beginning the year 5-10, the 'Riders picked up their seventh consecutive win on senior night last evening, with a three-game victory at Cook Gymnasium, 25-18, 25-21, and 25-14, their first win against the Cavaliers since 1998. The victory closes St. Marys' season at 12-10 and will open tournament action on Saturday against the Kenton Wildcats.
"The last couple of weeks our kids have been playing with a lot of confidence and that has really boosted our self-esteem," said Roughriders coach Monica Vanderhorst. "It was senior night tonight and our seniors knew it was the last night in their home gym, so everyone wanted to play well. The crowd was really into it, so that helped out too." The Roughriders served strong and played solid defense in the opening contest, methodically building their lead as the battle worn on. Despite valiant efforts by the Cavaliers to climb back into the game, St. Marys continually slammed the door shut on any hopes the visitors had of gaining control.
Leading by nine points late in the game, Coldwater picked up a couple of random counters, but a one-handed block by senior Emily Hurlburt gave the Roughriders the seven-point win in opening tilt.
"We wanted to serve aggressively tonight," said Vanderhorst. "We missed five serves in that opening game, and that was a real concern, but we were able to correct that, so I am pleased. We also wanted to control their big hitters, and I felt like we were able to do that tonight with some solid net play."
St. Marys held early control of game two, but the Cavs took their first lead of the night at 7-6 when a serve from Krista Sanford sailed into the net. The Cavaliers extended their lead to five points behind the strong serving of senior Betsy Homan, but as soon as things began to look promising for the Orange and Black, they immediately took a turn for the worse.
Lauren Schall took possession and with a strong defensive effort by the 'Riders and was able to pull her team back into it. She tied the game at 13 points before turning the ball over to the visitors.
A short time later, Maggie Hegemier gave her team the permanent lead when she served four straight to put her team in charge, 18-14. Both teams battled back and forth, but the Roughriders eventually posted their second win of the night, 25-21.
"At the beginning of the year, if we got behind we just fell apart," remarked Vanderhorst. "We are beginning to play stronger defense and are not getting so down on ourselves when we do get behind. Lately, it has been hard to shake these girls. They're really stepping up and did so again tonight against a very good Coldwater team."
Coldwater jumped out to an early 3-0 lead in game one, but the home team took control 5-4 and never looked back. As the contest rolled on, St. Marys continued to extend its lead before forcing the Cavaliers into submission by a final of 25-14.
"Over the last few weeks, our defense has gotten a lot better and we aren't letting as many balls drop," commented Vanderhorst. "We have a terrific group of seniors and we are gaining confidence in ourselves. That is a big key and very important this time of year."
Coldwater head coach Jeanette Vaughn was unavailable for comment immediately following the game. The Cavaliers (10-11) are back in action on Thursday when they play the Fort Recovery Indians in their Midwest Athletic Conference finale.