By Lance Mihm
lmihm@dailystandard.com
WAPAKONETA -- Auglaize County Health Department exhausted more than 60 percent of its flu vaccine supply during clinics at the health department Monday.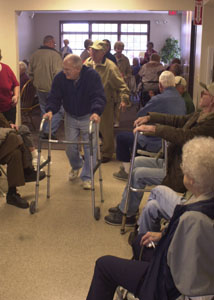 Auglaize County had 1,760 doses of the vaccinations and was down to 660 available for a clinic held at the New Bremen Senior Citizens Center on Tuesday. Health departments officials did not have a count on what was available this morning, but gave flu shots this morning at the St. Marys Council on Aging and have another clinic scheduled for this afternoon.
Mercer County already exhausted its supply of 800 vaccinations during three clinics, the last one held Oct. 12.
Supply of the flu vaccine in the United States was cut short after British regulators unexpectedly shut down a major U.S. vaccine supplier, Chiron Corp., on Oct. 4, freezing shipment of up to 48 million expected flu vaccines. That shutdown left Aventis as this year's sole supplier of injectable flu vaccine, distributing a total of 55.4 million doses. That number left the nation with about half of its intended flu vaccine supply. With a heavier flu season expected, experts predict as many as 207,000 flu-related deaths in 2005.
The Centers for Disease Control and Prevention reported today that more flu vaccine is expected to be available for millions of Americans in January, but that could be too late. The flu season typically peaks in January or later. It takes two weeks for people to develop immunity after being vaccinated, which should be done in October or November. Two companies offered the government flu vaccine originally intended for sale abroad Oct. 12. GlaxoSmithKline has 500,000 doses manufactured in Germany; ID Biomedical is offering 1 million to 1.5 million doses made in Canada. However, the Food and Drug Administration hasn't approved either vaccine brand for sale in the United States. Officials are still negotiating with the Canadian company.
The Ohio Department of Health asked local health departments to submit a "wish list" of how many vaccines they could use, said Cindy Jones, Auglaize County Health Department director of nursing. As of this morning, officials in Mercer and Auglaize counties had not received any information on if they would receive any more vaccines.
At the health department Monday, lines began to form around 6 a.m. and extended down the side of Wagner Street by 7:30 a.m. People stood in line with blankets, handwarmers and lawn chairs. One man in the front of the line said he arrived at 4 a.m.
The health department reserved their supply of the vaccine for high risk groups, such as senior citizens, children 6-23 months old, people with chronic health problems (asthma, diabetes, heart problems, etc.), pregnant women, residents in nursing homes, health care workers with direct patient contact and caregivers.
"These are the biggest lines we have had for the flu shot," Jones said on Monday.
-- The Associated Press contributed to this story.
Phone: (419)586-2371, Fax: (419)586-6271
All content copyright 2004
The Standard Printing Company
P.O. Box 140, Celina, OH 45822