By Gary R. Rasberry
grasberry@dailystandard.com
ELIDA -- The old poem about baseball said the saddest words were "Tinker to Evers to Chance," referring to the old Chicago Cubs double play combination.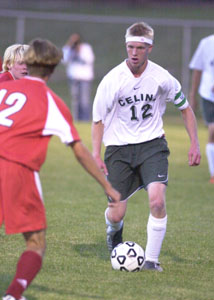 In soccer, two of the saddest words are "own goal."
Unfortunately, the Celina boys soccer team heard those words once on Tuesday.
A shot deflected off a Celina player and went into the Bulldogs' goal. That was all Kenton needed to avenge an earlier 1-0 loss to Celina with a 1-0 win in the Division II sectional soccer tournament at the Elida Athletic Complex.
The win puts Kenton (11-4-2) in the upper bracket final on Thursday against top-seeded Shawnee, which the Wildcats have already beaten 1-0 this season. Celina, playing one of its most competitive games of the season, ends its year at 5-10-2. "It was a really even game, like it was the first time," said Celina coach Bruce Strine. "Nobody likes to lose on an own goal, but it happens. I'm not blaming the team at all. I'm pleased with our play."
The game was even for the first 40 minutes of play as both teams had to deal not only with a very soggy field, made so by two inches of rain on Monday that prompted postponement, but a cold mist and incoming fog. Both teams had chances early but the defense and the keepers for each team shined. Celina had its best opportunity midway through when a header just missed the goal when it hit the crossbar.
Kenton had plenty of chances, trying six shots on goal. Celina keeper Mark Hopf had three good saves on chances with the other shots going wide or high.
Celina had five attempts with just one that Kenton keeper Doug Johnson had to make a save on.
"I wish that header was going into the corner (of the goal)," said Strine. "It just hit the crossbar. I thought for sure we would start off strong. It sure would have helped us."
As the second half started, Kenton appeared aggressive in keeping Celina pinned near its goal. The Wildcats got several corner kicks in the first five minutes of play.
WIth the clock under 36 remaining, Kenton got another corner. The boot went into the inside as Celina tried to clear. One kick went awry, going into the goal past an unexpecting Hopf and good for a goal for Kenton with 35:12 remaining.
Celina, undaunted, stayed aggressive in trying to get the score back, trying to attack the Kenton goal as much as possible. Johnson made just three saves in the second half but several times came out pretty far from the net to grab the ball before Celina had a chance to enter the zone.
"We kept attacking. We kept shooting," said Strine. "Kenton has a good team going on. I'm happy and wish them the best of luck against Shawnee."
Kenton looked content to try and keep the ball as far as possible from its goal in the final 10 minutes of play as long boots towards the Celina end were used. Celina had a chance to get back in the final couple of minutes but Kenton defended well. In the final 15 seconds all the Celina players, including Hopf, raced down off a direct kick to try and get one last goal, but Kenton again defended well.
"We brought it," said Kenton coach Jamie Bartlett. "We didn't play our best, but we persevered and fought through and pulled out the victory.
"We are a possession oriented team this year. By being able to do that, we kept the ball for long stretches of time," added Bartlett.
Phone: (419)586-2371, Fax: (419)586-6271
All content copyright 2004
The Standard Printing Company
P.O. Box 140, Celina, OH 45822