By Margie Wuebker
mwuebker@dailystandard.com
Law enforcement personnel throughout Mercer and Auglaize counties have joined forces in a school initiative aimed at promoting safe driving and seatbelt usage to teenagers.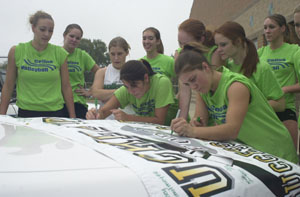 The program called R.A.C.E. (Responsible and Careful Every time) comes in the wake of accidents that claimed the lives of 10 teenagers and critically injured others in the two-county area this year.
Marked cruisers with uniformed personnel will be stationed at each area high school Friday afternoon as classes dismiss for the weekend.
Their presence tomorrow and periodically thereafter is intended to serve as a visible reminder to drive responsibly and use seatbelts, according to Lt. Dan Lay of the Wapakoneta post of the Ohio State Highway Patrol.
Lay initially spoke of launching such an effort last week following the death of Marion Local High School juniors David A. Gerlach and Corey J. Albers. The boys were killed Oct. 13 when their car skidded out of control on rain-slick pavement and struck a utility pole while returning from morning Tri Star Career Compact classes in St. Marys. "It is intended to be a visible reminder that we do care," Lay told The Daily Standard. "Driving is an inherently dangerous act that is all too often taken for granted until a tragedy occurs."
Celina Police Chief Dave Slusser quickly endorsed the initiative as did all law enforcement personnel in the two-county area. Slusser plans to make it part of a promotion he started planning in the days following earlier accidents that critically injured a Celina High School volleyball player and killed a Parkway High School golfer.
"The number of accidents involving teens certainly got our attention," Slusser added. "We all need to work together to prevent more tragedies."
Slusser has teamed up with the highway patrol to encourage the use of safety belts. The law enforcement officers have taken the message to student athletes, cheerleaders and band members at Celina High School as well as to local Tri Star students.
"We gave a short explanation about the importance of using safety belts and then asked them to make a commitment toward buckling up by signing banners," the chief added. "No one refused. We even had kids who didn't hear the talk asking whether they could sign."
In place of the traditional Celina Bulldogs banner, team mascots will carry one of the promotional banners onto the field prior to the Celina-Wapakoneta football game. Fans also will see a signed "What's Holding You Back?" banner displayed above the marching band bleachers.
"The simple fastening of a safety belt is the most effective traffic safety technique available," Slusser said. "It should be an automatic response when getting into a vehicle."
In addition to cheerleaders, band members and local Tri Star students, others committing to seatbelt usage are the football, soccer, cross country, volleyball, tennis and golf teams. Slusser labels participants as role models for younger students.
Mercer County Sheriff Jeff Grey has been contacted by Tri Star Director Tim Buschur regarding the implementation of additional traffic safety measures. Tentative plans call for a brainstorming session to be held next week involving school officials as well as representatives of law enforcement agencies in the Grand Lake St. Marys area.
The number of teen fatalities has increased dramatically this year, with all 10 of the deaths occurring in single-car crashes. Statistics from both counties show there was only one teenager killed in a traffic accident last year and four in 2002.
All drivers -- teens as well as adults -- are reminded to give their full attention to the task before them. Law enforcement officers participating in the collective effort also recommend maintaining safe speeds, stopping at stop signs, double checking for oncoming traffic before pulling into intersections, wearing all available safety restraints and limiting distractions while driving including the use of cell phones unless absolutely necessary, eating, reading and adjusting the radio.
"Everyone is in such a hurry these days," Grey said. "Accidents can and do happen. Any loss of life in an accident is tragic, but the message really hits home when the victims are young people."
Phone: (419)586-2371, Fax: (419)586-6271
All content copyright 2004
The Standard Printing Company
P.O. Box 140, Celina, OH 45822