MARIA STEIN -- The Marion Local Flyers wrapped up another stellar regular season with a 25-18, 25-18, 25-21 victory over the New Knoxville Rangers on senior night at the Hangar.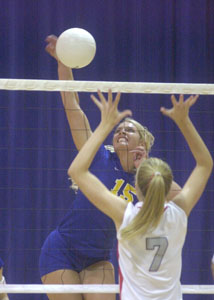 The Flyers end their campaign with an 18-4 mark overall and finish the Midwest Athletic Conference slate at 6-3. The Rangers fell to 11-11 on the year and 4-5 in the league.
Senior night also turned into something of a reunion night, as Marion had all of its regular players together for the first time in nearly a month. Junior middle hitter Jenna Barhorst rejoined the starting lineup after being out with an injury, and senior setter Abby Schulte is just getting back into the swing of things after also spending time out of the lineup.
"This was Jenna's first full game back and Abby's third, so we're still working out the kinks," said Marion coach Amy Kucharski. "Each game we're getting better and better with our timing. Jenna's still not 100 percent, but even at 75 percent she's still good enough to be out there."
Although the final scores weren't extremely tight, they don't properly reflect how close the games were, as the Rangers made the Flyers work hard for their wins. In the first game, Marion appeared to be cruising with a 19-11 lead, but New Knoxville rallied and drew to within four at 22-18. After Kucharski called a timeout, the next Ranger serve sailed wide to give the Flyers the serve back. Kelsey Schaefer then banged a kill before Schulte ended things with an ace.
The second game was tight throughout until the Flyers pulled away late. With her team leading just 19-16, Schaefer notched a kill and Stephanie Brunswick served up two winners to provide some breathing room. Another Schaefer kill and a Ranger hitting error followed to end the second game.
The final game was the closest of all, as neither team could open up much of an advantage until New Knoxville pulled out in front 14-10. Marion came back, though, and with the score knotted at 18-apiece, junior Jenny Hartings registered two straight blocks to give her team a two-point lead.
Two more Flyer points followed, but the Rangers scored three of their own to make the score 22-21. A Barhorst kill gave the hosts the serve, and after Schulte stuffed a Ranger kill attempt Barhorst finished the match with another kill.
"We just couldn't attack tonight," said New Knoxville coach Jenny Fledderjohann. "We were trying to make them play defense but they made us play more defense and we needed to swing at the ball a little bit more. We made some mental mistakes and there was a lack of enthusiasm on the floor on our part. We need to get a little more excited than we did tonight."
Kucharski was happy to see a solid defensive effort from her squad.
"I thought our defense was the best it's been all year," said Kucharski. "Everybody played excellent defense tonight and that was really the key to the win."
Both teams begin sectional action Saturday at New Bremen, and since neither received a seed they may play two matches on the day if they win the first one. New Knoxville will take on Fort Recovery at 1:00p.m. in the first match, and Marion follows in the next match against New Bremen. The winner of the first match will take on St. Henry, and the winner of the second gets Minster.
Phone: (419)586-2371, Fax: (419)586-6271
All content copyright 2004
The Standard Printing Company
P.O. Box 140, Celina, OH 45822