MINSTER -- On Thursday evening at Minster Middle School Gymnasium, the 2004 regular season campaign officially came to a close for both the home-standing Wildcats and the Parkway Panthers. In what both head coaches, Parkway's Todd Henkle and Minster's Rick Carter, describe as a great game to end the year, the Wildcats finished on top in three straight games, 25-22, 25-22, and 26-24.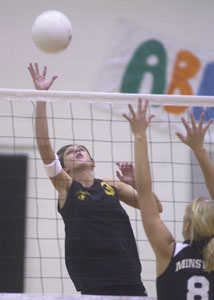 The Wildcats will begin tournament action on Saturday at New Bremen and will face the winner of the Marion Local Flyers and the New Bremen Cardinals. Parkway will travel to Paulding to square off against Fairview in the Division III sectional tournament.
"I told the girls coming into tonight's game that they couldn't let Parkway's record fool them," remarked Carter. "They had eight losses, but most of them were to ranked teams and they have played everyone very tough. We were able to leave with a win tonight and a little momentum going into tournament, so I am happy with that."
Game one opened with both teams landing punches back and forth, but neither was able to gain much momentum. With the contest knotted at 11 points, Parkway's Tory Henkle pushed her team ahead by three with a trio of strong serves. The Panthers remained in the lead until the home team took control at 21-20 and never looked back. Laura Gruber pushed the game out of reach by scoring four of the game's final seven points, giving her team the 25-22 victory.
"We dropped game one and afterward I told the girls that we need to play with a little more sense of urgency," commented Henkle. "We needed to get to the ball quicker and gain some focus. Minster came out and hustled on defense and popped a lot of balls up -- we need to get to that level and do the same thing." Another tight battle in the opening minutes of game two kept things close, but a serving rush by Gruber gave Minster a 12-8 lead, an advantage the home team would not relinquish.
The Wildcats lead expanded to as many as nine points, but Parkway pulled back into it, closing the gap at 24-22. A kill by Danae Spieles closed the game with the Wildcat win, 25-22.
"The girls were playing not to lose instead of playing to win at the end of that second game," explained Carter, whose record improves to 117-51 in his eight years at Minster. "We started tipping and rolling the ball instead of hitting it, and I think that was a big key in how that game ended."
In what turned out to be the deciding battle of the evening, game three got underway in the same manner as the two previous games. Minster took the early 3-0 lead, but Parkway was quick to get back into it.
The Black and Gold tied things up on several occasions, however, they were unable to capture the lead until the very end. Powered by the strong serving and even stronger kills of Rebekah Roehm, the visitors took a late lead, 24-23, when Roehm drilled the ball off of Courtney Overman and out of bounds.
Spieles answered with a slam of her own to knot things up, and then two successful service points by Laura Morsey gave her team the overtime win, 26-24.
"I told the girls that our games in the league are against some of the best competition there is," said Henkle. "We need to learn to put the game away. We had a couple of chances tonight and didn't capitalize on that. We were serving for game point in the third game, and didn't put it away. That's something we need to change."
he Wildcats close the regular season with a 17-5 overall record, while picking up a 7-2 record in the Midwest Athletic Conference. Parkway will begin the postseason with a 13-9 record to their credit and end league competition with a 3-6 record.