By Ryan Hines
rhines@dailystandard.com
Wapakoneta head coach Kevin Fell has been waiting for a breakout game from tailback Alex Tuttle all season long.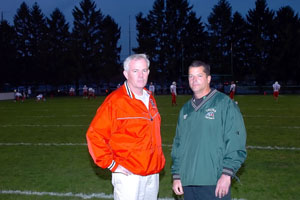 That's exactly what he got on Friday night at Celina Stadium as Tuttle had a big day rushing to lead Wapakoneta to a 20-7 win over Celina in a battle of Fell brothers.
The Redskins climb out the Western Buckeye League cellar with the win improving to 3-5 overall and 2-5 in the league while Celina falls to 2-6 overall and 1-6 in league play.
Despite getting the win, Kevin Fell is glad this week is over.
"I knew that this was going to be an emotional game and I think that our kids played like it too," said Kevin Fell. "I'm so glad this week is over. It's just been a miserable week with all the stuff going on. I think this could be a big game for years to come for both teams." Tuttle was no doubt the key to the game for the Redskins as the sophomore running back had a career-high 129 yards rushing on 22 carries including a pair of touchdown runs in the second half which sealed the win for Wapakoneta. Tuttle did most of his damage in the second half after rushing for just 18 yards on nine carries in the first 24 minutes of action.
"Tuttle finally had the type of game that we know he can have for us," said Kevin Fell. "We played tonight like we should have been playing all season long. Tuttle has only been healthy for a few games and he has shown some ability a few times in those games but he definitely played like we know he can play in the second half tonight. At halftime, our running backs coach talked to him and he came to play in the second half."
Already ahead 7-0 after a second-quarter touchdown pass from Jason Brown to Brandon Steinke covering 33 yards, Wapakoneta wasted no time reaching the end zone in the second half.
Craig Nagel caught the second-half kickoff and rambled 52 yards to give Wapakoneta great field position at the Celina 44-yard line. Tuttle and Nagel took turns running the ball on the drive which was capped when Tuttle broke through a huge hole on the right side of the line and broke up the middle for a 17-yard touchdown.
Following a three-and-out possession by Celina netting zero yards, Wapakoneta took over again offensively in great field position at its own 46-yard line.
Four straight run plays led to Tuttle's second touchdown run of the night, a 39-yard sprint off tackle giving Wapakoneta a 20-0 lead with 6:18 to play in the third quarter.
"He (Tuttle) runs hard and they attacked us up front," said Mike Fell. "He broke a couple of long runs in the second half on us and that was the difference. I think that we let down for a couple of plays and they took advantage of it."
Having managed just one first down to this point in the game, Celina was finally able to put together an offensive drive on the ensuing possession.
Starting at its own 35-yard line, Celina mixed the offense well with three passes and three runs moving the ball down to the Wapakoneta three-yard line.
Celina called a sweep to Kelly Mallory looking for the score, but the Bulldogs were called for clipping pushing the ball back to the 20-yard line. The Bulldogs made up for the 17-yard loss with a 17-yard screen pass from Erik Chapin to Andy Harner putting the ball back on the three-yard line.
This time, Chapin kept the ball and tried to score around the corner only to fumble the ball at the one-yard line as Wapakoneta recovered the ball in the end zone for a touchback.
"We had some opportunities to score but we didn't take advantage of it," said Mike Fell. "We have to score when we have the chance."
Still down by 20 points, Celina scored its lone touchdown on the next possession with a grind-it-out running game. Harner had a five-yard run to start the drive and then Chapin and Mallory shared the offensive load the rest of the way before Mallory capped the drive with a one-yard touchdown run with 8:43 left in the game.
From that point on, Wapakoneta's defense was the difference keeping Celina out of the end zone to seal the win. The Redskins allowed just 231 yards of total offense in the game drawing praise from their head coach.
"I think that our defense has played well for us all year long," said Kevin Fell. "And I think that we did as good a job defensively on Celina as anyone else has all season long. It's too bad that our offense has been so terrible this season because our defense has played well."
Celina is back in action on Friday for the Annual Battle of Grand Lake at St. Marys in the regular season finale.
Phone: (419)586-2371, Fax: (419)586-6271
All content copyright 2004
The Standard Printing Company
P.O. Box 140, Celina, OH 45822