By Gary R. Rasberry
grasberry@dailystandard.com
VERSAILLES -- For the first 40 minutes and two seconds, it was a game where Versailles was firmly in control of St. Henry.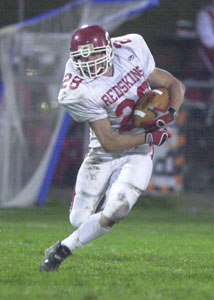 The Tigers had pushed its lead in the third quarter to 17-7 thanks to a field goal by Zac Richard.
But with 7:58 remaining in the game, Jon Clune kicked a field goal to cut it to a 10-point game.
And apparently opened the floodgates as well.
St. Henry scored 14 more points in the next 7:58, with the clincher coming with 28 seconds remaining in the game to come back and beat the Tigers 24-17 at Hole Field. The win not only keeps St. Henry firmly in second in the Midwest Athletic Conference at 6-1 and 8-1 overall, but it brought the team closer to its first playoff appearance since 1999.
"Our kids never stopped battling and never stopped believing they could win the football game," said St. Henry coach Jeff Starkey. "Time and time again in that fourth quarter, they rose up and made the plays necessary for us to win the game."
The play that sparked the scoring came on defense early in the fourth quarter. The Tigers were going on a sustained drive that took five minutes off the clock. The drive stalled when the Tigers were down on the Redskin seven-yard line. Rather than have Richard go for another field goal, the Tigers went for it on fourth-and-five. Quarterback Tony McNeilan tried to roll out but was smothered by Kalen Hemmelgarn four yards behind the line to give St. Henry the ball.
St. Henry went on its first real sustained drive -- the Redskins had possession for just 15:04 in the contest. Quarterback Nate Stahl, who was just 1-of-6 in the first half passing, began to find his rhythm, connecting with Brady Schmitz for several passes before the Redskins stalled out at the Tiger 14. Clune came on to kick a 31-yard field goal to cut the Versailles lead to 17-10.
Versailles' next series sputtered at its 44, forcing a punt. St. Henry started at its 29 and had trouble early. On fourth-and-10 from the Versailles 41, Stahl went for it and found Matt Hemmelgarn for a 34-yard strike to put the ball at the seven. A play later Schmitz snagged a Stahl pass to tie the game with 3:11 remaining.
Versailles managed just eight yards on its next drive and went three-and-out for the only time of the night. Richard booted the ball beyond the 30 but the Redskins were able to take it back to their 40 to start the final drive with 1:34 left. Stahl found Jared Stammen for a 16-yard pass on the first play and followed up with a pass to Schmitz to put the ball at the Tiger 32 with 1:20 left. After a false start backed the Redskins up five yards and an incomplete pass, Stahl found Schmitz for an eight-yard gain and called timeout. Facing a third-and-seven situation, Stahl and Schmitz teamed up for a 14-yard pass play to make it first-and-10 from the 15 with 37 seconds left, time enough to try for the end zone with a timeout to spare to bring Clune on for the field goal if needed.
Stahl set up to look to Schmitz, Stammen or Matt Hemmelgarn in the end zone, but all three were covered. Meanwhile, Jon Hemmelgarn broke his block and was open for a screen pass. Stahl fired it over to Hemmelgarn and he took off up the sideline, diving in with 28.4 seconds left to give the Redskins a six-point lead before Clune's extra point.
"That was two guys finding a way to win and making a play," said Starkey. "Jon was supposed to be in there blocking and kind of slipped out when they started scrambling. I don't know if it was an overhand pass, but it got the job done."
Versailles had one last try to score, but McNeilan's first pass found the diving arms of the Redskins' Josh Werling, ending any hope for heroics.
"There's not much to tell the kids in a game like this, with so much on the line, other than to find a way to win," said Starkey. "Our kids have been working so hard since last November that they were not going to let this one slip away."
Jon Hemmelgarn had 119 yard rushing, but 88 of that came on one play in the second quarter. For the rest of his carries, the senior tailback had just one carry over five yards.
"We gave them one run in the whole game," said Versailles coach Al Hetrick.
Hetrick did not have much else to say.
"We have to find the killer instinct to finish games," said Hetrick. "We let people up off the floor. We have to work on delivering the knockout blow. Give credit to St. Henry. They're a good football team. ... They made big plays in the second half and we didn't."
Stahl finished with 225 yards on 14-of-30 passing. Stammen finished with 99 yards on five catches with Schmitz adding 72 yards on six snags.
Adam Francis led Versailles in rushing with 100 yards on 22 carries. Curtis Wourms had 22 carries for 90 yards and scored both Tiger touchdowns.
With one game left in the season, the annual wrapup with Fort Recovery at the Wally Post Athletic Complex, the Redskins are not quite thinking about week 11 yet, but the thoughts are coming more to the forefront.
"We still have one game left. We have to take care of business this week in practice and take it a day at a time," said Starkey. "We'll see what the computer tells us after week 10."
Versailles wraps up the regular season at Parkway.