By Gary R. Rasberry
grasberry@dailystandard.com
FINDLAY -- Another stellar defensive game for Celina meant another game in the postseason as the Bulldogs advanced in the Division I girls soccer sectional with a 1-0 win over second-seeded Bowling Green at Graham Memorial Soccer Stadium in Findlay.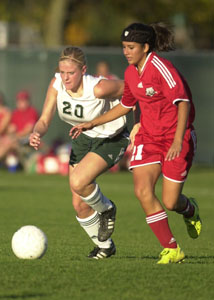 The Bulldogs (8-7-3) now face top-seed Findlay in the district semifinal at Graham Stadium on Wednesday at 5 p.m. The winner of that game plays the semifinalist from the Lexington bracket on Saturday at 7:30 p.m. for a trip to the regionals.
Just like the previous game with Fremont Ross, it took time for Celina to get going offensively, but the defense was ready to go from the start. The Bobcats (8-9-1) took just one shot in the first half and three in the game. Celina keeper Laura Kuhn had to make just one save as the other two shots went wide of the goal.
"I have a lot of confidence in our defense," said Celina coach Dean Liggett. "When our defense is playing well, we're playing good. We played solid and double-teamed when we had to. (BG) had 2-3 legitimate scoring opportunities. In the second half, I thought BG came out and played very hard. For the first 10-15 minutes I was concerned, but the girls stepped up as soon as we got that goal."
Celina was able to get some quality shots early on Bobcat keeper Clare Strange. The Bulldogs took eight shots on Strange with six coming in close enough for the junior keeper to make the save. Several times Strange would kick errant kicks out rather than scoop them up and punt them downfield. Finally in the second half, the Bulldogs got the break. With Strange a little out of goal, Lindsay Miller came in and was able to get an advantage. Miller passed to a streaking Meg Smalley, who put the ball in the net with 27:28 remaining in the match for the lone goal of the game.
"Their keeper started cheating up a bit trying to get a few more of our thru-balls," said Liggett. "This is one where we got past the defender with a nice little ball in the middle, then it was a race. Smalley was able to put it away with a nice assist from Lindsay Miller."
Miller's assist came in large part to a pre-match switch in positioning. Liggett swapped Miller and Shay Adams' positions on the field.
"My hat's off to Lindsay and Shay because I flipped-flopped them on opposite sides of the field," said Liggett. "I tried something a little different and they didn't complain about it and everyone played as a team."
Bowling Green tried to turn things up in the final 20 minutes of the game, but the Celina defense stepped up and prevented the Bobcats from putting in the equalizer.
"It was a great game," said Liggett. "We thought, going in, it would be looking at the mirror as far as Bowling Green. They had a little better of a record, but every year we've battled BG here and every year it's been a close game by one goal or maybe a couple of goals. We have not lost to them but every year they've gotten a little better. They have some quality seniors on the team and they play a physical game.
"(In) Tournament, records don't mean a whole lot. Any team can win on any given night. Our girls stepped up tonight. We finally jumped out on a team early and the defense held," added Liggett.
The Bulldogs now get a second chance at the host Trojans, who opened Celina's season with a 6-0 win.
"Now we get to meet the nemesis that we faced in the first game of the season," said Liggett. "That's Findlay."
Phone: (419)586-2371, Fax: (419)586-6271
All content copyright 2004
The Standard Printing Company
P.O. Box 140, Celina, OH 45822