By Shelley Grieshop
sgrieshop@dailystandard.com
Deer seem to have a fascination with Matt Wilker's Dodge Ram pickup truck.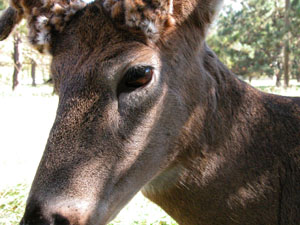 Three years in a row, while driving that same truck, Wilker of St. Marys has tangled with deer while heading home along County Road 66A south of the city. He drove away from the first two encounters nearly unscathed. He wasn't so lucky this last time.
"I saw something on the side of the road but it was small, I thought it could be a dog or a cardboard box," said Wilker, 19, whose most recent deer rendezvous occurred in late August. "Then it jumped through some pine trees and out in front of me."
Wilker, who lives on Tri Township Road, said he swerved to miss the animal but the truck hit the ditch and overturned. His vehicle was totaled, but luckily -- with the help of a seat belt -- he escaped unharmed.
The area where Wilker confronted the short-haired animals all three times is known as a homestead for many deer. "Just off the top of my head, that location is probably one of the most populated deer areas in the county," said Dave Sheets, wildlife officer for Auglaize County.
Sheets said that particular "deer zone" includes land along state Route 66 and County Road 66, between the city of St. Marys and state Route 219.
Wilker said a friend of his once stopped seven times in a mile and a half stretch of the area to avoid deer. During hunting season last year, Wilker counted more than 70 deer in one field.
There are several specific locations in the Grand Lake St. Marys area that have a reputation for large deer populations. Those areas become real hazards this time of year when the four-legged animals are mating -- looking for lovers, not vehicles.
Deer collisions increased 4.7 percent last year in Ohio, according to the Ohio Insurance Institute. With an even larger population this year, the percentage of deer crashes is expected to be even higher in 2004.
Wildlife officials estimate Ohio has about 700,000 deer within its borders.
Other areas in Auglaize County considered hazardous due to deer include north of the city of Wapakoneta on Wapak-Cridersville Road, and on state Route 67 from Graham Road to the community of Uniopolis.
U.S. 127 south of Celina has long been known as "deer alley." Signs just a few miles from the city warn of their overwhelming presence.
"Wherever you have large woods and waterways, you'll have deer," said Ryan Garrison, Mercer County wildlife officer. "The refuge near (U.S.) 127 is undisturbed, so that's where they go."
Garrison said deer frequently cross the busy highway to find food in farmers' fields -- a move that often proves deadly for the deer and costly for motorists.
Last year in Ohio, motorists claimed $63.5 million in damages to vehicles that collided with deer, the insurance institute reported. The average claim was about $2,000; unfortunately most motorists have out-of-pocket deductibles ranging from $500 to $1,000. Combined with the threat of injuries to the driver or occupants, deer crashes are no laughing matter.
The 31,729 deer collisions in Ohio in 2003 led to seven deaths and injury to 989 people, according to statistics compiled by the State Highway Patrol and the Department of Natural Resources. The numbers are up slightly from 2002.
Garrison said areas around the Wabash and St. Marys rivers also are likely places to find deer crossing the roadways.
"Drivers should also take extra care where farmers are taking off corn, especially in the evening," he added.
In Mercer County last year, the largest number of deer crashes occurred in November (40); the least in January (4). The county racked up a total of 177 deer crashes throughout the year.
Auglaize County law enforcement agencies handled even more: the peak also was in November with 57 deer-related crashes. The month with the least was September tallying 10, for a yearlong total of 266.
The majority of run-ins with bucks and does occur between October and December. More than half of those take place between 5 p.m. and midnight, although the early morning hours before dawn also is a time to use caution.
Wilker said he now drives very slowly as he rounds 66A from Waesch Road. And just as law enforcement agencies suggest, he'll no longer try to swerve to miss the prancing animals.
"The best advice I can give is to take your foot off the gas pedal and just hit the deer if you have to," he said. "Once you're close enough to see their eyes, it's probably too late anyway."