By Shelley Grieshop
sgrieshop@dailystandard.com
NEW BREMEN -- First-grader Paige Rutschilling held tightly to her stretch of red ribbon as she strained to look further down the sidewalk outside her school.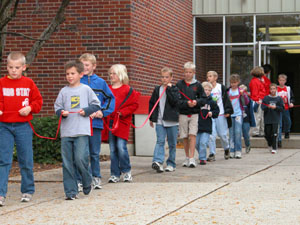 dailystandard.com">
"How far does it go?" asked the little New Bremen girl as her classmates shrugged their shoulders.
Six hundred students from kindergarten through eighth-grade impressively surrounded the entire elementary school while holding onto the very, very long red ribbon.
The special event was held in conjunction with Red Ribbon Week, which is celebrated across the country and in most local schools. Red Ribbon Week promotes a drug- and alcohol-free environment as well as a "safe zone" for students while at school.
"More than 80 million people will celebrate Red Ribbon Week this year," New Bremen schools counselor Julie Lee told a packed gymnasium full of students prior to the outside activity. Lee said stretching the ribbon around the school demonstrated that the school is a safe haven from the temptations that lurk in each community.
"I hope long after they graduate and leave school they remember this place as a safety zone," Lee told The Daily Standard.
Lee urged the students to say no to drugs and alcohol now, "so it'll be much easier to do when you get older."
"The average age a child starts drinking (alcohol) is 12 years old," she told the sea of red-dressed students who nearly all wore the appropriate color, coincidentally the Cardinals' school color.
She urged students to "take a stand" and be strong against peer pressure.
"Tell your friends you have better things to do with your life," she urged, also speaking against bullying behavior.
New Bremen Police Chief Doug Harrod addressed the students and explained how it's important for the community as a whole to keep alcohol and drugs away from the youngsters.
"If we all work together, we can make sure this is a safe school and a safe community for everyone," Harrod told the children.
New Bremen Local Schools, just like nearly every school in the local area, are holding special activities each day this week in observance of Red Ribbon Week to remind students to make good choices for their future.
Red Ribbon Week began nationwide in 1988 in honor of Drug Enforcement Officer Enrique "Kiki" Camarena of Texas, who was slain soon after working undercover for the agency in Mexico. Camarena, who grew up in a dirt-floored house, worked his way through college and served in the Marines before becoming a police officer.
According to the Texas Commission on Alcohol and Drug Abuse, Camarena was abducted, tortured and killed by members of a major drug cartel that he was investigating in Mexico shortly before his death.
Phone: (419)586-2371, Fax: (419)586-6271
All content copyright 2004
The Standard Printing Company
P.O. Box 140, Celina, OH 45822