By Janie Southard
jsouthard@dailystandard.com
Lake Campus provided another learning experience for students Thursday, this time the subject was Frightening Foods 101.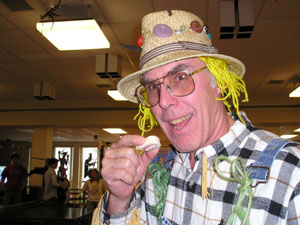 Well, perhaps it's advanced far beyond 101 as Pat Howard, book shop manager, said the annual Halloween party for students and faculty has been going on at the campus for several years.
"Since 2000 we've been decorating the cafeteria, dressing up in costume, and making fun snack-type food at Halloween. And, the whole thing has really grown," Howard told The Daily Standard.
As she carefully dished up green and red monster eyes (blueberries dropped in Jello), she pointed out some of the other gruesome goodies.
There were spiders, booger dip, grasshopper guts, ghost toasties, witches' brew, skeleton bones, barbecued bat wing pigeon poop and many, many more ghoulish delights. It takes a lot of time and volunteers to put this party together and drag out all the decorations, which Howard stores in her attic, then begin decorating the cafeteria and hallway. As many as 16 people do the decorating, cooking and assembling the various treats.
Accounting professor Ron Kremer, who showed up Thursday as a scarecrow, helped with decorations; but he could be in it just for the tasty eyes of newt of which he had a generous helping.
But it is the behind-the-scene work that resembled a beehive. For a week before the event, the inner sanctum of the book shop was a storage house of chocolate chips, salsa, canned cheese product, chow mein noodles and so forth nestled on shelves between "Calculus Won't Kill You" and "Fun With Philosophy" or some such textbooks.
At a work table at the corner of the book shop Monday, several volunteers were busy tinting almonds that later became fingernails and toenails for the Lady Fingers and Men Toes, a rather grisly snack once assembled. Several of the (bread) toes also featured sprinkles of oregano toe hair. Yuk!
All the snacks are common foods, but there are some concoctions that almost everyone avoids.
"The kids usually steer clear of Booger Dip, which is really only cheese with green food coloring. And very few will take the Potty Jello. It's lemon gelatin and chocolate bars and we set the dish in a bed pan. Last year the kids would not touch it, although they said it was a neat idea," said Howard, who has dressed for the party over the years as swami, galactic queen, and witch.
It appeared many of the faculty were in costume, at least, one must assume these were costumes. For example, Martha Stewart (aka Carol Jones, faculty support) wearing prison stripes was working at a computer which was jazzed up with a frilly ruffle.
Also roaming the halls to the tune of "Purple People Eater" and "Monster Mash" was a hula dancer, a '50s gal with poodle skirt, a nun with a basket of goodies, and three blonde mice complete with tails and other unusual sights.