By Margie Wuebker
mwuebker@dailystandard.com
Law enforcement officers found more than the aftermath of a physical altercation while responding to a Mendon-area home Wednesday morning. They located three structures currently used for marijuana drying as well as a large quantity of contraband.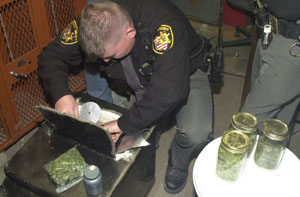 Tammy M. Houser, 41, 8569 Shelley Road, called the Mercer County Sheriff's Office at 7:23 a.m. claiming her husband had knocked out her teeth and then left in a red pickup truck.
Deputies Doug Timmerman and Dan Adams responded to the scene and spotted suspicious items while talking with the alleged victim. They applied for and received a search warrant after she denied permission for a search of the property.
The deputies entered two abandoned mobile homes and a recreational vehicle on the Union Township property and discovered the drying operations with marijuana hanging. A weapon reportedly was found in one of the structures.
Seized during a search of the residence were various items described as drug paraphernalia, several bags of what is believed to be marijuana ready for distribution, some white powder, several containers of an unidentified liquid substance and five weapons, including a handgun, shotgun, rifles and a muzzleloader. Celina Police officers brought their K-9 unit Nick to assist with the search and the trained animal reportedly "hit" on a locked safe that was seized after officers received a second search warrant.
Two cruisers transported all the contraband to the sheriff's office, where county maintenance workers opened the safe. The contents included what appears to be high-grade marijuana and paperwork believed to be records of some sort.
Deputies charged Houser with misdemeanor charges of possession of marijuana and drug paraphernalia. She appeared in Celina Municipal Court on Wednesday afternoon and pleaded not guilty to both charges. Houser remains free on bond pending a December pretrial hearing.
Additional charges could be filed once the Bureau of Criminal Investigation and Identification completes tests on various substances found at the home. There are no charges pending at this point against the man allegedly involved in the altercation.
Mercer County Sheriff Jeff Grey described the drying operation as "a sizable operation."
"This is the most stuff we have found in the 10 years I have been with the sheriff's department," Timmerman told The Daily Standard this morning.
Authorities have not placed a value on the contraband pending the completion of weighing and analyzing the suspected drugs. It took four record pages to log in all the items.
Investigators do not know at this point whether the drying operation is linked in any way to the discovery of 133 marijuana plants growing in four Union Township locations during aerial surveillance in August. They were among 272 marijuana plants confiscated during a two-day effort. Each plant has a street value of $1,000 to $1,500.
"People involved in the drug trade in Mercer County need to understand that this is a team effort of all law enforcement in the county and all officers and deputies are constantly looking for drug violations," Grey added.
Phone: (419)586-2371, Fax: (419)586-6271
All content copyright 2004
The Standard Printing Company
P.O. Box 140, Celina, OH 45822