By Kelly Braun
kbraun@dailystandard.com
COLDWATER -- The elementary students at Coldwater went to a fiesta Tuesday.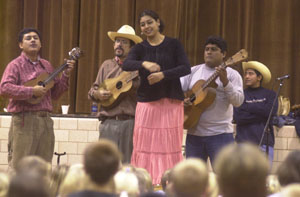 Not just any fiesta -- a fandango.
The celebration was put on by Chuchumbe, a song and dance troupe from the southern Veracruz region of Mexico. The group has been touring internationally for 13 years to spread 300-year-old musical traditions.
A fandango is a celebration where family and friends gather around a wooden dance floor to play musical instruments, sing and dance. The music performed is called son jarocho, which includes verses of various themes from romance and happiness to peasant revolution and the struggle for the rights of poor.
At Coldwater, the seven musicians told the students about their heritage through a Spanish translator. Then they plucked on their guitars as two dancers took to a wooden platform, called a Tarima. The man and woman faced each other and began to stomp on the platform in rhythm with the music -- a dance called zapateado footwork. The singers clapped and sang in Spanish, punctuating the song with shrills of excitement.
"Do you guys like that," the translator asked the elementary students, who responded with a loud "yeah."
The performers explained there are several types of music and cultures in Mexico. Their traditions date back hundreds of years and are taught to children when they are very young.
Holding up the various sizes of instruments, the musicians explained each and told of how they carved the instruments from trees. The small guitars are played with their fingernails, while a stick from a bull's horn is used to play the large guitars. Other instruments included a harp, tambourines, a large wooden box a musician sits on and beats out a rhythm and even a horse's jaw in which a stick is tapped on.
The troupe ended the performance by inviting the children to dance along. They sang a song about making hot chocolate and the children followed one of the dancers as she stomped her feet, clapped, pretended to stir a pot and spun around.
The performance at Coldwater was just one of three schools Chuchumbe visited this week. The group also performed for students in Fort Recovery and St. Henry and will hold a public performance at 7:30 p.m. Saturday at Arts Place in Portland, Ind. Tickets are still available.
The group's current five-week tour is part of Midwest World Fest, a community wide cultural exchange program of the nonprofit organization, Arts Midwest. The group uses music and performance art to foster an appreciation for diversity and an acceptance of other cultures.
Arts Place in Portland was selected as one of the 10 cities to host Midwest World Fest events. Past events have included an Israeli artist and a musician from the Gullah culture in the South Carolina sea islands, and in April plans have been made for a Japanese bamboo orchestra to perform. Arts Place then works with the local schools to bring the performances to students.
"Midwest World Fest was created with one simple goal -- to foster an understanding of and appreciation for global uniqueness and differences," reads a brochure. "Through this cultural exchange, artists travel from the four corners of the globe to entertain America's heartland."
Phone: (419)586-2371, Fax: (419)586-6271
All content copyright 2004
The Standard Printing Company
P.O. Box 140, Celina, OH 45822