By Margie Wuebker
mwuebker@dailystandard.com
NEW BREMEN -- Shirley James looks at the large purple banner and sees more than the recognition it brings to Auglaize County on behalf of the American Cancer Society's Relay for Life.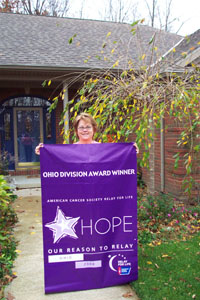 The banner, which she accepted last month in Columbus, represents the hard work of dedicated supporters in raising money to further research and education into the disease that has touched so many families.
The Ohio Division of the American Cancer Society has proclaimed Auglaize County number one in terms of per capita fund raising. The relays -- one in Wapakoneta and the other in New Bremen -- raised $208,279 in 2004 or $4.47 for every man, woman and child in the county. The totals also place Auglaize County ninth in per capita fund raising among the 4,000 relays held annually in the United States.
"We have two separate relays here with a common goal," James says. "And that goal is raising money for research and education. Someday in the not too distant future, cancer will be just another chronic disease like diabetes and arthritis successfully treated with medication."
The New Bremen woman remembers hearing about Relay for Life but its importance did not sink in until she was diagnosed with breast cancer in 2000 at the age of 50. "I did not let the diagnosis frighten me," she says. "I feel survival is all about attitude and fighting. Cancer took my breast but it deepened my faith and made me more open and vocal. If I had to second-guess what God had in mind with such a diagnosis, I believe it was to become involved in raising money through Relay for Life."
Organizers asked James to participate in the survivors' victory lap in 2001, but she was still recuperating from a year marked with surgery and chemotherapy.
She joined a team from the Lutheran Church in Moulton in 2002, but failed to complete the lap. Somehow in the excitement preceding the start, she stepped off the track and felt pain shoot through her ankle. X-rays later confirmed a fracture.
Eleven of the 12 new teams registered that year hailed from the "golden triangle" of New Bremen, New Knoxville and Minster.
Spurred by such interest, project manager Deb Smith proposed the addition of a second event in the county and recruited James for what is now known as the Southwestern Auglaize County Relay for Life. She currently serves as chairman.
The New Bremen woman chuckles before pointing out that her choice of themes has led to some rather interesting weather phenomena.
In 2003, the initial event raised $70,000 despite a tornado of sorts that seemed appropriate in light of the "Wizard of Oz" theme. This year supporters brought in $114,119 with a Jimmy Buffett theme despite brisk winds, pelting rain and menacing lightning reminiscent of a tropical hurricane.
The 2005 event, which takes place June 10-11 at New Bremen High School, will feature a Wet 'n Wild theme which leaves the door wide open for more weather tricks.
James, who earned volunteer of the year honors in recognition of her Relay for Life efforts, lauds the efforts of her 25-member committee and a legion of supporters.
"Our numbers in terms of money raised are mind-boggling," she says. "Now people take us seriously. There will be a time when we reach a plateau, but hopefully that is still some years away. Everybody has to do just as much and then some in order to surpass this year's total."
During a recent meeting in Columbus, American Cancer Society officials talked about stretch goals and James came away with a new philosophy -- "When you shoot for the moon and miss, you still land with the stars."
Her enthusiasm is apparently catching as some teams are already involved in ambitious fund-raising projects even though official kickoff ceremonies do not take place until 2 p.m. Jan. 23 at the New Bremen High School commons.
She expects team numbers to increase in the coming months. Forty-seven registered in 2003 while 63 showed up in June. She wonders aloud how much money 75 teams could add to American Cancer Society coffers. Dollars further research into finding a cure and developing more effective drugs. Educationally, contributions fund 24-hour information lines and a wealth of literature.
"Relay for Life is a celebration for cancer survivors," James says. "I plan to draft a team of survivors and family members so there will be someone who has dealt with cancer on the track throughout the entire 21-hour event."
James credits her dedicated crew for providing needed support and encouragement. She enjoys seeing families participate and hers is no exception. Hubby Jay James, vice president/plant manager of Celina Aluminum Precision Technologies, serves as her right-hand man and their daughter-in-law works on the registration committee.
"I hope everyone will consider taking part in the Southwestern Auglaize County Relay for Life 2005," James says. "We are going to find a cure for cancer and we need your help."