By Ryan Hines
rhines@dailystandard.com
FINDLAY -- For the second consecutive year, the Parkway volleyball team had its postseason run halted in the Division III regional semifinals at Liberty-Benton High School on Thursday night.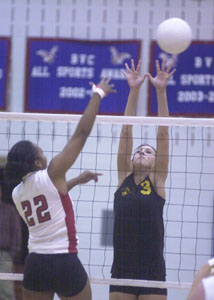 It was an impressive performance by the Panthers, but in the end, undefeated Rocky River Lutheran West defeated Parkway, 21-25, 25-12, 25-20, 17-25, 15-11.
Rocky River improves to 26-0 on the season and moves on to the Division III regional final on Saturday at 1 p.m. to face Huron (21-5) with a berth to the state tournament at Wright State University on the line. It's the third time in school history that Rocky River has advanced to the regional finals with the other two years coming in 2002 and 1980. Parkway ends its season at 16-10.
Despite the loss, Parkway gave Rocky River its toughest match of the season. The Longhorns had never been pushed to five games until Thursday night when the Panthers forced five games and came up just short in the fifth game. In fact, Rocky River had lost just one game the entire season before the Panthers won two games on Thursday.
"We told the girls that there's no way that they should hang their heads after the way they played tonight," said Parkway head coach Todd Henkle. "They played to the ability that we thought that they could play to and we have nothing to be ashamed of. We pushed a very good team to five games and our girls just played their hearts out. We saw them play on tape prior to tonight's game and we thought that we could compete with them and push them in a classic battle. With a break here or there we could have been the team competing for a chance to get to state. We played a really good team and I think that they will go on to state.We think that this is a place that we can get to on a regular basis and we would like to get here again next year." "I think that Parkway is a strong team, probably one of the stronger teams that we have faced this season," explained Rocky River Lutheran West head coach Stephanie Flaherty. "We saw them play last week and I kind of expected them to do what they did tonight. These girls never got worried and just played the way that they can play."
Parkway certainly gave Rocky River a scare and that was evident by dominating play in Game 1. Holding an 8-7 advantage, Parkway broke the game wide open by winning eight of the next nine points to take a 16-8 lead.
Laura Art had two kills for Parkway and five Rocky River errors contributed to the Panthers run. Rocky River never got closer than four points the rest of the way as the Panthers won Game 1, 25-21.
As good as Parkway played in Game 1, it was a different story for the Panthers in Game 2.
Rocky River jumped out to a 9-2 lead in Game 2 forcing a timeout, but that didn't stop the momentum for the Longhorns as they went on to lead 18-7 before Parkway burned a second timeout. Parkway was never able to mount much of a rally as Rocky River won Game 2, 25-12.
Another strong start vaulted the Longhorns to a large advantage as Rocky River led 14-5 before Parkway fans knew what hit them. In this game, Parkway got as close as two points on two different occasions but the Longhorns led from start to finish before posting a 25-20 win.
"I didn't expect us to come out as flat as we did in the first game but I was really happy to see the way that we responded in the second and third games," said Flaherty. "Once our girls got their feet underneath of them after the first game, the jitters were gone and we were ready to roll."
With momentum clearly on its side, Rocky River tried to put the match away with a win in Game 4 but Parkway had other ideas.
Trailing 3-2 early in Game 4, Parkway won the next five points to grab a 7-3 lead. Deidre Adams served up two aces, Rebekah Roehm notched a kill and the Panthers took advantage of two other Rocky River errors to pace the Parkway run.
The Longhorns battled right back and got to within one point at 8-7 but the Panthers went right back on the offensive taking a 16-10 lead Before Rocky River called a timeout. Rocky River rallied again to get within three points for a moment but a late Parkway run forced a deciding fifth game as the Panthers won Game 4, 25-17.
As expected, Game 5 went back and forth until Rocky River was able to Finally put together a string of points. Leading just 9-8, the Longhorns won five of the next six points to take a 14-9 led. A five-second violation during the ensuing serve gave the ball and a point to Parkway where the Panthers got to within 14-10 before a Jessica Moses kill clinched the match for the Longhorns.
Moses was the difference maker for Rocky River against Parkway as the senior led all players for the Longhorns with 19 kills and three aces.
Moses had six kills in the fifth and deciding game. Bethany Kastner also added 14 kills for Rocky River while Helen Stewart contributed 10 kills.
"You just can't say enough for the way that Jessica played for us tonight," said Flaherty. "She has been like that all year for us and she really stepped up for us again tonight and put the ball away. When they started to focus more on Jessica, we were able to work the ball to our other offensive threats and that's been a big key for us. Jessica is very strong, but we have other girls that have the ability to put the ball away for us."
Roehm led all players with 22 kills for Parkway while teammate Laura Art added 10 kills. Adams also contributed three kills and three aces for the Panthers.
"We've preached chemistry to this team all year long and we had that this year," said Henkle. "I told the girls that I've had more fun coaching this year with this team than I had in a long time. It was always a fun practice and the girls came ready to play and to work hard. They gave us 100 percent every time they stepped into the gym."