By Margie Wuebker
mwuebker@dailystandard.com
Kip Wright feels the time has come to open a new chapter in his life. The move will take him further than the one-block area that has been his second home for more than three decades.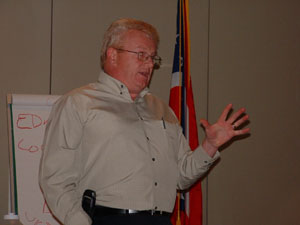 Wright retired Friday as a detective with the Mercer County Sheriff's Office. His 32-year career in public service includes stints as a law enforcement officer, a probation officer and an investigator for the prosecutor's office.
"I thoroughly enjoyed my work, but the time has come to pursue a new challenge and make way for young guys with families in these times of budget constraints," he says. "I remember being in their shoes some years back."
Wright, who turns 55 next month, plans to work for his friend and former partner Ron Puthoff at Community Development Services in Celina.
His abiding interest in law enforcement stems from a July 1971 decision to follow in his father's footsteps as a member of the sheriff's reserve. "My first detail came during the Celina Lake Festival," he recalls. "The sheriff (W.C. Sunderhaus) assigned me to take three jail trustees over to the courthouse for the parade. Oh my, I was just a young buck of 21 or 22 at the time."
Wright became a full-time dispatcher/jailer in February 1972. Sunderhaus commented the $1.90 hourly wage was probably less than the young man earned as a meat cutter at Bob Cole's market.
"I went home and talked to my wife Mary," he says with a smile. "I was only getting $1.75 cutting meat, and the new job offered a windfall of $3 more per week."
He eventually moved to road duty before teaming up with Puthoff as the department's first detective squad and earning the ranks of sergeant and lieutenant.
In November 1977, Wright resigned and headed across the street to the Mercer County Courthouse as an adult probation officer.
"At the sheriff's office, I worked with people who were presumed innocent until proven guilty," Wright says. "It was a whole different ballgame on the other side of Livingston Street. The people I dealt with in the probation department had been found guilty and were facing the consequences of their actions."
He especially enjoyed presentence investigations Mercer County Common Pleas Court Judge Dean James used in determining appropriate penalties. He received an indepth course in the judicial system while further honing interview skills during the course of 15 1/2 years.
In the early 1990s, Wright accepted another challenge as an investigator in the office of Mercer County Prosecutor Paul Howell, instead of taking a job offer from the Ohio Adult Parole Authority. The work allowed him to maintain strong ties with law enforcement officers throughout the county. He also established the first victim's assistance program using grant money the prosecutor's office received.
Wright, affectionately called "Skippy" by co-workers, moved back to the sheriff's office in 1999 to work as a detective for Sheriff Paul Gray. At the age of 49, he again became a rookie who needed to successfully complete police academy training in order to earn recertification.
"That was the most humbling experience of my life," he admits with a sigh. "Having completed the course 20 years earlier, I figured I knew everything about law enforcement. I discovered there were a lot of things I didn't know."
Wright found himself working with fellow detective Pat Elking -- a professional whose investigative skills he admires. The pair are closer than brothers in some respects.
"It really takes a team approach," he adds. "Pat has the uncanny ability to pick up on the physiology of lying ... those telltale movements a lot of people miss. He also has the knack of knowing when I'm running out of gas and need his help."
Unlike television and movie scenarios depicting lengthy interrogations conducted by hard-nosed cops, the team talks in mellow tones, cracks an occasional joke to break the ice, uses tips supplied by road deputies or others in the know and listens intently to each statement a suspect makes. After all, it only takes one slip to provide an opening.
Memorable cases resulting in convictions include a bank robbery in Chickasaw, a payroll check cashing scheme extending into several states and the theft of 114 weapons from Niekamp Farm & Flea Market south of Celina.
Wright, who plans to continue serving as police academy commander at Wright State University-Lake Campus and to rejoin the sheriff's reserve, considers himself a fortunate man blessed with good supervisors and co-workers during the years.
"Kip has done more than I asked him to do over the course of the last four years," says Mercer County Sheriff Jeff Grey. "His departure will leave a big hole to fill, but I feel sure we will continue to draw on his knowledge and expertise in the years ahead."
Wright has shared words of advice with his replacement (Detective Chris Hamberg) in recent weeks, including the importance of networking, seeking input from others and giving credit where credit is due.
The father of two grown children and the grandfather of a 4-year-old grandson describes his wife as "faithful confidante and supporter." She has been there in good times and bad with an encouraging word or an objective opinion, he says.
Wright looks at the badges he has worn throughout the years and laughs softly before closing the cases.
"A badge and gun are real heavy when you first get involved in law enforcement. They lighten up considerably as the newness wears off and you become a regular person."