By Gary R. Rasberry
grasberry@dailystandard.com
NEW BREMEN -- For their first appearance in the playoffs in 16 years, the New Bremen Cardinals decided to make it memorable.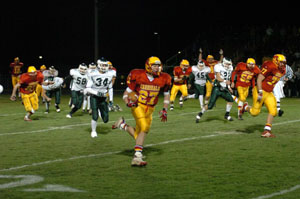 The Cardinals rushed for a school record 500 yards, with three players rushing for 100 or more yards, in posting their first state playoff football win in a 55-27 defeat of Troy Christian on Friday in the Division VI playoffs at Cardinals Stadium.
The win puts New Bremen (8-3) into a second-round matchup against Mechanicsburg next Friday at a site to be determined. The Eagles, making their third straight playoff appearance, ends the season at 7-4.
New Bremen coach Howard Overman, making his first venture into the playoffs as a head coach, was understandably happy.
"It's been a big week," said Overman. "The cross country team is at state, the band's at state Sunday, we passed a levy on Tuesday and we're in the playoffs. A lot of positive things. "It's history, man. We told the team before the game to take a breath. You put 'tournament' or 'playoff' before game and it's do-or-die. That's why you see upsets in tournaments. You don't want to make mistakes."
The Cardinals made sure that they would not be on the end of a upset. At the start of the game, three rushes by Jeff Thobe was followed by a off-tackle run by Troy Lammers for 51 yards and a touchdown just 1:41 into the game. Troy Christian looked to answer with a 56-yard drive that took the ball down to the Cardinal 19. New Bremen held on two straight plays from the 19 to take over on downs.
Thobe took over on the run on the second series, getting 56 yards on a up-the -middle run to put it at the 25. Chris Grant and Lammers added 11 yards on runs after a face mask penalty to get to the one. Thobe burst in from there to make it 14-0 with just under five minutes left.
The Cardinals, who normally like to eat up the clock as much as possible, came up with several short series, but most were successful. Of the eight scoring drives on the night, only two were for more than two minutes with the shortest being 10 seconds. Troy Christian actually won the (Continued from page 8)

time of possession battle by holding the ball 24:34.
"Our gameplan was to have Cardinal football; just grind it 15-20 plays, because we didn't want them to have the ball," said coach Overman. "They're a pretty skillful team. Believe me, I'm not complaining if we break a play."
Troy Christian was able to get a score in the first quarter, but the Cardinals pulled away with 14 more points in the second quarter. As the Eagle defense began to anticipate Thobe coming up the middle, Alex Leugers showed them a new look.
The Cardinal quarterback faked the hand-off to Thobe and bootlegged around for the open field. Three times Leugers ran the play with all three ending up with the senior quarterback in the end zone for a touchdown. Leugers had just four carries, but led all runners with 158 yards, with touchdown runs of 59, 55 and 38.
"We're a very balanced team," said Leugers. "We have a lot of weapons. The line blocks awesome, we have the best line around. That play (the bootleg) was open everytime and anytime."
"We could have been a little better defensively," said Troy Christian coach Dave Amlin. "This is a good New Bremen team. We were outmanned, but the kids fought hard and tried to stay in the game."
In addition to Thobe, who rushed for 103 yards and a score and Lammers, Chris Grant and Brian Garman also added some damage. Grant had touchdown runs of 41 and 24 en route to a 101-yard night. Garman, who came in to replace Lammers, who suffered a shoulder injury, made an impact when he took his first carry 60 yards for a touchdown. Garman made five more carries on the night to finish with 74 yards.
The Cardinals shut down the Eagles' running game for the most part, forcing quarterback Josh McGraner to throw. The Eagles had success with McGraner finding favorite target Jordan Wright. Wright made six catches for 167 yards and two touchdowns and wowed all in attendance with several high leaps to grab the ball.
"Nineteen, he made some nice catches," said coach Overman, referring to Wright's jersey number. "We don't have a receiver like that in our league right now. He just made some phenomenal catches. Andy McMurray did a nice job against him, but (Wright) brought them down."
"He's my player, but Jordan had the best game for a wide receiver I have ever seen," said Amlin. "I've been coaching for 20 years and that was the best I've seen. He kept us in the game. He did a great job."
McGraner, playing in his first game in several weeks due to injury, was 11-of-28 for 230 yards with one interception.
The Cardinals know that all the hard work during this season has paid off with a little history.
"Can't stress enough teamwork," said senior lineman Marcus Overman, who recorded 15 tackles and provided key blocks for the runners. It's paying all. All the hard work at two-a-days. It feels great to know you've accomplished something."