COLDWATER -- Coldwater, the number-one ranked team in Division IV, rolled up a 28-0 halftime lead and went on from there to a 35-0 win over the Avon Eagles in first round action in Division IV region 16 at Cavalier Stadium.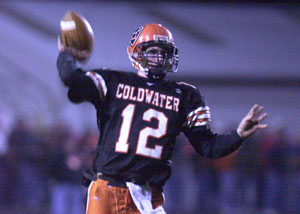 With the win, the Cavaliers remain undefeated, 11-0. More importantly they survive to fight another week as they will play number six seeded Delta next Friday in the regional semifinals at a site to be announced on Sunday. Last year, the Panthers ended the Cavaliers' season with a 16-14 win at the regional final in Lima.
Avon ends its season at 8-3.
After struggling offensively the past couple weeks, scoring just 24 points in its last two home games, the Coldwater offense came out of its slumber in a big way as they rolled up 390 yards of total offense and five scores in 46 plays. On the evening Coldwater had just one play go for negative yards.
Steve Borger had a great game as he completed his first 11 passes en route to a 13-of-16 night good for 272 yards and four scores. Kyle Schoenherr led six different receivers with 100 yards on just three catches. Craig Wellman added 61 yards on three grabs and Justin Kahlig added two catches for 48 more yards.
"They took some things away from us early but I thought we adjusted well," said Coldwater coach John Reed. "Our offensive line did a great job of blocking giving Steve time to pass. We have great receivers that can run down the field and catch the ball and Steve had the opportunity to throw the ball. I thought this was one of Steve's best games of the season."
"We just couldn't adjust to their speed," said Avon coach Lee Powell. "We were good against the run, tackling in open space, but they were able to throw the ball over us and run right past us.
"Their quarterback was something," continued Powell. "It is not easy to throw the ball that far and that accurate and he was dropping them right in there to his receivers, and you have to give Coldwater credit for that."
The Cavalier defense, which gave up an average of just over eight points turned in another stellar effort. In addition to posting the shutout Coldwater held the Eagles to just 114 yards of offense on 60 plays
The Coldwater held a depleted Avon running game, which came into the game averaging over 230 yards a game, to just 68. Avon played without 1,000-yard (Continued from page 8)

rusher Bob LaRosa, who was out with a stress fracture of his ankle.
"I feel for them that they were not able to have one of their best players able to play," said Reed. "I thought that once we got the tempo of what they wanted to do, the defensive coaches made adjustment that we needed to be successful."
"They were just better then us," said Powell. "I thought we played as well as we could under the circumstances we just got beat by a better team, they have a great team.
"We played our hearts out tonight but they just had too much for us,"continued Powell. "Skill-wise, they have weapons and they are also incredible defensively. I thought we matched up well with them but that is the best team we faced all year defensively.'
The game started slowly for the Cavaliers as they were stuffed on a three and out after completed a first down pass for nine yards as Nathan Ruschau and Chris Drda each had tackles for loss.
Avon then came back and put together a good drive as they gained two first downs, moving the ball to the Coldwater 40. At this point the Cavalier defense stiffened as they held the Eagles to just seven yards on the next four plays,. turning the ball over on downs.
Taking the momentum from the defense, the Cavalier offense went 68 yards in just six plays with Borger hooking up with Wellman for the games first score.
After a three and out by Avon, Coldwater took over at its own 35 and went 65 yards in eight plays with Borger hooking up with Kahlig on a 33-yard score on the third play of the second quarter for the Cavaliers second score.
After another three and out by Avon, Coldwater struck quickly as it took just one play, a 51-yard pass from Borger to Schoenherr to make the score 21-0.
Coldwater took advantage of an Avon special team miscue to set up their fourth score, on fourth down from the Eagle 33, the center snap went over punter Shawn Stencil's head and he downed the ball at the Eagle 15. Four plays later, Borger connected with Kahlig on an eight yard scoring pass with just two minutes left in the half.