By Janie Southard
jsouthard@dailystandard.com
ST. MARYS -- Strickland rocks.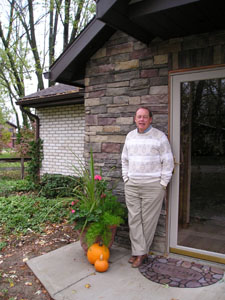 After 38 years in the classroom, Ken Strickland retired from teaching last year but he left behind materials that have become Strickland's Rock Garden, an outdoor education center at Wright State University-Lake Campus.
A lifetime collector, Strickland boxed up the minerals and rocks he wanted to take with him when he retired. The maintenance department then began boxing the rest but couldn't bring themselves to throw it all away. So the specimens are now displayed in weatherproof cases with metal labels as well as scattered throughout several ground areas in the winding garden located near the Crown Amphitheater.
The man who taught chemistry, physics and earth science at the Lake Campus for more than 30 years became interested in geology because of a hole in a rock.
Strickland grew up in rural Miami County, so rural, he says with a impish smile, the only roads were dry creek beds and air mail meant pigeons. "The preacher's kid had a rock collection, which I thought was the stupidest thing to collect. My gosh, there were rocks everywhere, what's so special about rocks?" Strickland recalled at his cozy home in St. Marys.
It wasn't long before his father pointed out a rock that was for sure special right in the Strickland yard.
"He told me there was a rock with a hole in it right under our outdoor faucet, a hole that water had made. Well, I was 8 years old and I knew water couldn't make a hole in a rock, but I went to investigate," he said.
What he found was a piece of limestone through which water droplets over the years had carved a hole. He was amazed. But what really clinched his future and the future of the hundreds of college students he's taught, was the preacher kid's sample of petrified wood.
"Wood that has turned to stone?! I couldn't believe my eyes. I was hooked," he said with a note of awe in his voice.
His boyhood home was located in an area geologists know as a boulder belt, a place where the glacier dumped huge specimens from distant places.
"Not much is known about boulder belts. I did my master's thesis in north Ontario on the Gowgonda formation, a boulder conglomerate," he said.
A few years later, he was back in his old neighborhood photographing the round building made of fieldstone that was his elementary school.
"Right outside my first-grade window was a chunk of Gowgonda. I felt I had come full cycle," he said.
A teacher all his working life, this retired associate professor of geological sciences said he misses the classroom and the students "terribly."
"I was so lucky. I had the finest students in the world, many of whom went on to become teachers far better than I. I'm so proud of them," he said.
It is likely the hundreds who progressed through Strickland's geology classes are still talking about his unique teaching methods -- the cakes, for example.
Volcanic rock, such as pahoehoe in Hawaii, is ropey and twisty, which can be illustrated by mixing up cake batter, which he did for many classes.
"Fudge can also be used effectively to illustrate the cooling of molten magma," noted the baker/professor, father of two grown children and husband of Kim Strickland, art teacher at St. Marys high school.
On his retirement agenda is to go through the boxes of rocks piece by piece that are stored in his garage.
"Much as I always wanted to do deep research, the teaching load has always been very heavy. So I never had time, but now I do. There are many papers that need written," he said.
However, it appears his teaching will continue, this time tutoring elementary school students through the HOSTS program at West school in St. Marys.
"It's fulfilling and, I think, a valuable program," he said.