By Ryan Hines
rhines@dailystandard.com
VANDALIA -- Revenge is so sweet, just ask the St. Henry volleyball team.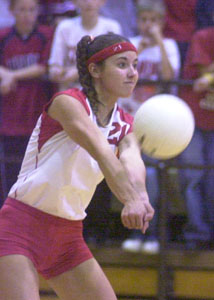 Not only did the Redskins avenge an earlier loss to Lehman on Saturday, but St. Henry captured the Division IV regional title at the Vandalia regional at the Student Activity Center.
St. Henry's 25-17, 19-25, 25-20, 25-15 win over Lehman earned the Redskins their second straight trip to the state tournament to be played at the Nutter Center on the campus of Wright State University.
St. Henry will play in the Division IV state semifinal on Friday at approximately 4 p.m. against undefeated Kalida (26-0). Lehman ends its season at 21-7.
This was a highly anticipated rematch for St. Henry followers after having watched Lehman win the regular season matchup on September 14th. Earning its second consecutive trip to the state tournament was nice, but it's no secret the state-clinching win coming against Lehman made it even sweeter.
"We talked all week about having already lost to Lehman and we had a little more motivation to avenge that loss," admitted St. Henry head coach Lori Schwieterman. "We thought that we played really bad that night that we lost to them and we knew that we could play better and I think that the girls proved that tonight. It's just a great feeling to get back to state again."
"Not only did they have the motivation of beating us because we beat them earlier in the season, but the real motivation is that there was a state berth on the line today," said Lehman head coach Greg Snipes. "I'm proud of the way that our girls played, but St. Henry was just the better team today."
Even the St. Henry players weren't shy about how it felt to avenge the regular season loss to Lehman
"The motivation factor about avenging the loss to them earlier in the year was huge," acknowledged Lindsay Puthoff. "We talked about it all week and we were able to play much better than we did when we faced them last year. We are a much better team now than we were when we lost to them."
"We were really pumped before the game because we wanted to get some revenge on them," said Kayla Layfeld. "We wanted to play these guys again because we knew that we didn't play our best in the loss to them earlier in the year. We just wanted this game really bad."
St. Henry won Game 1 and Lehman won Game 2 but Lehman clearly had the momentum on their side early in Game 3.
Lehman capitalized on five St. Henry errors and held a 12-9 lead when Schwieterman called timeout and challenged her top-ranked Redskins squad.
"I told the girls that it was time to go and that we couldn't mess around any more," stated Schwieterman. "We had to get after it and play the way that we knew that we could play. We were playing as individuals at that time instead of as a team. We came together and played as a team the rest of the way and came away with the win. I told Lindsay Puthoff that she had to step up and take control of the game. We needed her to respond and take control and that's exactly what she did at the net with her blocking and her kills."
The Redskins responded to Schwieterman's brief tongue lashing, most noticeably senior leader Lindsay Puthoff and junior standout Kayla Lefeld.
Puthoff's offense and defense at the net along with Lefeld's stellar serving and hitting ability helped turn a three-point deficit into a 25-20 Redskins win.
Puthoff, who led all players with 22 kills, had seven kills and another four blocks for points in Game 3 along while Lefeld added nearly unreturnable jumps serves along with three kills in the third game. Both Puthoff and Lefeld knew that it was time to step their play in Game 3.
"Coach told us that we were beating ourselves and that we just had to go out there and play our game," said Puthoff. "I knew that somebody had to step up and I wanted this win really bad so I stepped up and just tried to do my best. We had to get our focus back as a team and we were able to do that."
"We knew that we had to play more as a team and play much better overall and that's what coached told us and we were able to respond," added Lefeld.
The momentum from Game 3 clearly carried over to Game 4 as St. Henry jumped out to a 7-2 lead. Lindsay Thobe, Cami Lefeld, Kayla Lefeld and Lanee Mikesell all had kills to highlight the early St. Henry run.
Lehman responded with a mini-run of its own and pulled to within two points at 12-10 midway through Game 4.
St. Henry dominated the rest of the way winning 13 of the next 18 points to punch its ticket to the state tournament. Puthoff had four service points and Christa Schwartz added another three points of her service game to ignite the Redskins to the wire-to-wire win in Game 4.
Having now survived the toughest sectional and toughest regional in all of Division IV, the Redskins now turn its focus to trying to win the sixth state volleyball title in school history and first since 1995.
"We tried really hard to win it (state) last year but we came up short so we were looking forward to the opportunity to possibly go back to state and get the job done," said Puthoff. "Now we have that chance and we just want to have fun and play our best."
Phone: (419)586-2371, Fax: (419)586-6271
All content copyright 2004
The Standard Printing Company
P.O. Box 140, Celina, OH 45822