By Bruce Monnin
bmonnin@dailystandard.com
COLUMBUS -- While much attention was focused on the duel between the Minster and Versailles girls, many other area runners also competed at the state cross country meet Saturday.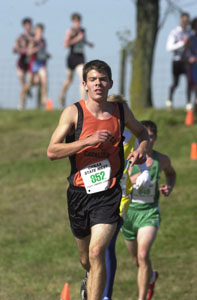 Some of these runners were completing their high school careers, while others were getting their first taste of state competition.
In the Division II boys' race, Coldwater sophomore David Wilker made it to the podium for a second straight year, finishing 15th.
Wilker had hoped to finish a little higher but like many others, found himself caught in traffic.
"It's a great opportunity to run here at Scioto downs against some of the best in the state. At some points on the track you just can't pass, and once you do get to some open field where you can pass, the front of the pack is already pulling away," said Wilker. St. Marys sophomore Jason Durkee was making his first trip to Scioto Downs, where he finished 17th with a time of 17:16.
He also was hung up in traffic a bit, and did not quite reach his goal for the race.
"I was hoping for a sub-17, maybe 16:45," said Durkee.
In the Division III boys' race, a Versailles squad which has made many previous trips to the state meet was the top local team, finishing 11th. The New Bremen squad was there as a team for the first time since the early 1970s, and they finished 16th while hopefully gaining experience and tradition for the future.
But the top local runner in the race was Marion Locals' Ryan Winner, a senior who finished in 32nd place.
Ryan had previously finished 31st in 2002, but failed to qualify last season.
"It's a good way to end my senior year, going to state," summed up Ryan.
In the Division II girls' race, Celina senior Katelin Smith enjoyed her first ever trip to the state meet.
"Overwhelming is what it was. I was so excited that I finally got to make it here," admitted Smith. "I worked so hard since the end of last cross country season and I gave it my all."
While Minster and Versailles were fighting it out for the title in the Division III girls' race, the Coldwater girls were placing 10th as a team.
Last year Tasha Stucke finished 73rd overall, but this year she brought her team with her and improved to a 34th-place finish.
With the entire team returning, coach Dan Pohlman is hoping they use the experience to have further improvement next year.
Individually, Marion Local senior Trisha Bruns finished 47th, the highest ever placing for a Flyer girls running cross country at the state meet.
Bruns was both happy with her performance and disappointed that her high school career is ending.
"I'm just happy to be here. I was excited all week," said Bruns. "I wish I could say there is a next year, but there isn't, at least not for high school."
Erin Calvelage from Delphos St. Johns also placed well, finishing 31st in the field.