By Margie Wuebker
mwuebker@dailystandard.com
Two law enforcement officials believe buckling up and slowing down could be the key to curbing the high number of teenage fatalities in Mercer and Auglaize counties this year.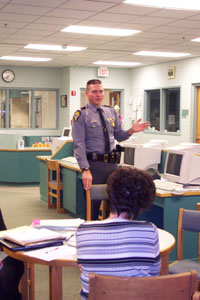 Celina Police Chief Dave Slusser and Lt. Dan Lay, commander of the Wapakoneta post of the Ohio State Highway Patrol, presented a traffic safety program Monday night as part of a Celina High Academic & Motivational Promoters (CHAMP) meeting. They specifically addressed the unusually high number of teen deaths
Ten young people, ranging in age from 14 to 19, have died died due to injuries sustained in single-vehicle crashes since January. The majority resulted after vehicles ran off the road and struck stationary objects or rolled. The most recent occurred Oct. 13 when two Marion Local juniors were heading back to school following morning classes at Tri Star Career Compact.
"If kids, and adults for that matter, do one thing right in the car it should be putting on a safety belt," Lay said. "Maybe we wouldn't see as many traffic deaths or serious injuries."
Both Lay and Slusser added the importance of using seat belts must be stressed at an early age in hopes the process becomes a matter of habit. Unfortunately, high school students often refrain from using the safety device due to peer pressure. "You will see kids buckling up in elementary and middle school," Slusser said. "But something happens when they move up to high school."
One mother in the audience suggested vehicle manufacturers came up with designs that would not allow the radio or CD player to come on until safety belts were fastened. Her comment drew a flurry of nods around the media center.
The two law enforcement officials recently collaborated on a seat belt promotion at a recent football game, with athletes, cheerleaders, band members and Tri Star students signing banners to indicate their support. Band members launched into a lively rendition of a seat belt jingle and provided cue cards for members of the audience who did not know the words
"I was really amazed and pleased," the police chief said. "Those young people really got the message out."
A similar program took place in the Parkway Local Schools district and the officials would like to see other schools get involved during the winter sports season. All law enforcement agencies in the two-county area have collaborated on a program called RACE (Responsible and Careful Every time) with uniformed officers and marked cruisers in prominent view when classes leave out in hope students will buckle up and slow down. It will continue periodically as a means of reinforcing the message.
Lay estimates Northwest Ohio, which includes the Grand Lake St. Marys area, has a voluntary compliance rate of approximately 83 percent, an increase of 13 percent from figures posted just six years ago.
However, Lay added safety belts afford little protection when anyone loses control of a vehicle traveling 60 to 70 miles per hour and hits a utility pole with the driver's side.
"I've seen accidents where the utility pole ended up in the passenger seat," he said. "It's awful."
Speeding remains a problem especially on country roads where stones lay at the edge of the berm. Inexperienced drivers often step on the brake and overcorrect when they drive off roadways. These incorrect responses often lead to serious or even fatal accidents.
"The proper response is to take your foot off the gas, stay away from the brake and slowly drive back onto the road," Slusser said. "Ideally, parents should take their young drivers to a country road where there is little traffic and a nice level ditch to practice responses."
Both officers lauded officials at Tri Star for their response when students receive tickets for violations such as speeding.
"Those students receive the worst punishment possible," Lay said with a smile. "Their driving privileges are suspended and they have to take the bus."
Inexperienced drivers have little time for evasive action when their speed surpasses posted limits. Distractions, such as adjusting the radio and talking on cell phones, could result in accidents.
"Driving a car is not the time to be doing other things," Lay said. "Driving is all about the task at hand. Going into the funeral home after crashes and seeing 16-year-old victims is a sobering experience. I would like to take every young driver along and show them how quickly lives can end."
Phone: (419)586-2371, Fax: (419)586-6271
All content copyright 2004
The Standard Printing Company
P.O. Box 140, Celina, OH 45822