By Timothy Cox
tcox@dailystandard.com
ST. MARYS -- City officials still are dealing with the fallout of a downtown fire that swept through the Glass block building on Spring Street.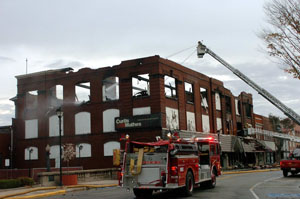 Parking along the street remains restricted and traffic is maintained in narrow lanes along the city's main drag, more than a week after the fire. City officials on Monday said they are eager to get the downtown traffic flow restored to normal.
Keeping the parking spaces closest to the building is necessary for safety purposes, Safety-Service Director Mike Weadock said. Falling bricks or collapse of the upper level walls are the main fears, he said.
"I know there is frustration with the merchants but we have to keep some level of safety," Weadock said.
Demolition and renovation work is being scheduled by the building's owner, but it may be several days before work crews are on the scene, he said. The owner's tentative plan is to remove the burned-out third story of the building before making renovations, he said. "Obviously, that will make it a little safer," Weadock said. "Maybe they can at least get that part down in the near future."
The city fire department and fire units from six other area departments responded to the scene of the blaze that broke out about 11:15 p.m. Oct. 31. The building was occupied by two businesses, one which already was in the process of relocating to Celina. The building was constructed in 1902.
City council members on Monday passed resolutions of appreciation thanking the other fire departments that sent manpower and equipment to help battle the fire. Identical resolutions were passed for the city of Celina, St. Marys Township, Wapakoneta, Buckland, New Bremen and New Knoxville.
"Without their help, it could have been a lot worse than it turned out to be," council President Daniel Hoelscher said.
Phone: (419)586-2371, Fax: (419)586-6271
All content copyright 2004
The Standard Printing Company
P.O. Box 140, Celina, OH 45822