By Shelley Grieshop
sgrieshop@dailystandard.com
Gene Powell extends his arm as George Wilson slowly takes a shaky step up into the Veterans Service van.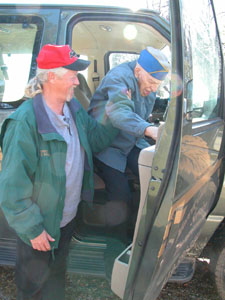 "Yeah, I just throw him in and away we go," Powell says jokingly as he helps 84-year-old Wilson get settled in the passenger seat.
Wilson, a decorated World War II veteran living in rural Rockford, has taken countless rides with Powell during the last 10 or so years -- most to the Veterans Administration (VA) hospital in Dayton.
"Heck, I don't know what I'd do without him," Wilson says in a rare serious tone. "He's the best driver I've ever ridden with."
Powell gets similar kudos from veterans all over Mercer County who count on him to get them back and forth to hospitals, doctor and counseling appointments and the like. For 14 years he has driven area vets more than a half million miles, all accident-free. "Gene started with us part-time," says Tom Risch, director of Mercer County Veterans Services. "He's very, very dedicated and has built such a great rapport with not only the veterans but the people at the facilities he drives them to. He knows where he's going and gets them exactly where they need to be."
Powell is the only full-time transportation driver for local veterans; the county also has two part-time drivers. Powell has gone through five vehicles since his first day on the job and currently drives a 12-passenger heavy duty Ford van.
Powell's career with the county has taken him all over Ohio from Cleveland to Toledo, to Marion and Chillicothe, and west to Indianapolis, Ind. He has a lot in common with many of his riders, having served in Vietnam from 1970-71.
"After I was back about 10 years, I started having really bad flashbacks," says Powell, a single father. "I've had my bad times, several tough relationships. Just too many memories from 'Nam. I understand these guys pretty well."
Powell went through counseling himself at one point then decided he had enough. His father passed away a year ago, and with daily accounts of the war in Iraq, he continues to fight off the dark feelings and memories of his days in the Army.
His job, he says, is a lot like a daily dose of "counseling," and his clients are much more than taxi fare. It's like therapy on wheels for everybody, he says.
"I listen to them and I kind of feel like a bartender sometimes. I was told not to get too close to these guys, but you can't help it," he says with passion in his voice. "Some of them are really busted up, confused. Many times I realize just how lucky I am."
Powell has gotten quite close to the many military men and women who ride shotgun in the oversized van. Many of them consider him family.
"I'm a big Ohio State fan and had tickets last year to the big game against Purdue. But then one of 'my guys' died and his family asked me to be a pallbearer. Me, I couldn't believe it. His family said he liked me so well," he says, adding he was honored to fill the request.
Before the elder man died, Powell visited him at the hospital where surgeons removed his leg after a losing battle with diabetes. Powell fumbled for the right words to say.
"So I just asked him, 'What do you think?' And he looked straight at me and said, 'Well, my socks will last me twice as long.' "
Powell says he has learned a lot about handling life's ups and downs through the hearts of veterans, and the gratitude they show overwhelms him. Like the guy who always tries to slip him a $5 bill, hiding them in the glove compartment or ashtrays when he is not looking.
Many of them try to buy his meals (the county pays for his food on the road) and bring him fresh baked goods, and fruits and vegetables from their gardens. The "extras" are flattering, but the best gift of all isn't tangible, he says.
"They trust me. It feels really good when they tell me I'm a good driver," he says.
Being a chauffeur for the brave men and women who have served their country means long days, many times filled with traffic jams and countless hours in waiting rooms, Powell says. But it's worth every mile.
"Some days I listen to these guys and laugh. They pick on each other like school kids, they share their war stories and ask my opinion about everything," he says. "Really, I guess, I can't imagine doing anything else."