By Kelly Braun
kbraun@dailystandard.com
Finding a rare watermelon garnet at an auction in New York City was the start of jewelry maker Collette Fortin's signature piece.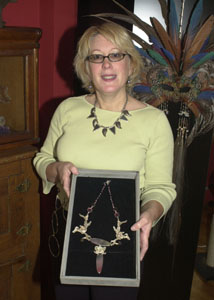 The light pink and green gem was mined in South Africa and hasn't been available since the 1940s. When a collector died and on his auction list was watermelon garnet, Fortin knew she had to have the precious stone.
The treasure was made into a necklace, Vision Serpent, which now travels in a black plush case to art shows throughout the country, helping Fortin bring home the gold. Already this year she has won a first-place jewelry award at a Kentucky art show and an Award of Excellence in Illinois.
Fortin, who moved from New York City to Celina in July, is taking the Midwest by storm with her one-of-a-kind pieces of jewelry. Each detailed piece is designed and handmade by Fortin.
"I like to keep my work fresh. I'm always working on new pieces," she says, wearing an apron and magnifying goggles, while working on a piece in her home studio on Lake Street. Her pieces are all hand-pierced, meaning she uses a jeweler's saw to cut out from metal sheets each intricate design, and then solders the pieces together with a torch. She works with copper, silver, brass and 14- and 18-karat gold.
She hunts for rare gems and beads, having traveled to West Africa, Germany, Mexico, Costa Rico and Brazil to find the perfect centerpiece for her designs. She cuts the stones herself, if they need it, hand builds the bezel and mounts the stone.
From sketching out an idea to setting the final stone, Fortin does it all, making each piece truly unique.
She began working with jewelry after 13 years as a fashion designer in New York City. The industry was stressful, and Fortin found relief in a night class on jewelry making.
"I saw that everything in the garment business was going overseas, and I missed the hands-on work," she says. "I found the jewelry class was the highlight of my entire week."
Fortin eventually quit her job and went back to school to earn an associate's degree in jewelry. Soon after she signed up as an apprentice with goldsmith Marne Ryan of Delaware. For a year and half, Fortin lived with Ryan, learning new skills and about the business world.
"I started with polishing, the lowest and filthiest job and worked my way up," she recalls.
And she'll never forget Ryan's two rules.
"If you mess something up, fix it. If you break a gemstone, you pay for it. Unfortunately, it was a sapphire," she says with a laugh.
About four and a half years ago Fortin started her own business, Ceiba Tree Jewelry. She designed a booth and began showing her work at art shows. Winning a first-place award at the first big show she attended in Louisville, Ky., was the confidence booster she needed.
Since then her Maya glyph collection has become popular, with many customized orders. She uses the glyphs (symbols for letters or words) from the ancient Maya civilization on bracelets, pins and earrings. Several customers have ordered bracelets that show their name or an important date in glyphs.
"They (glyphs) are visually rich, a lot of interesting shapes and motifs," she says, adding she has traveled to Mexico six or seven times and extensively studied the translation of the symbols.
Now Fortin says she works "full-time and more" on her jewelry, with 25 shows scheduled this year. She is traveling to New Orleans, La., this week and locally will be at the Once Upon A Christmas Art Fair at Artspace in Lima on Dec. 4. She sells her pieces at shows, with average prices being $70-$500, and takes customized orders.
She is still settling into her new home, which she purchased to be closer to her boyfriend, well-known glass artist Barry Davis of rural Celina. Her studio is coming together slowly, she says, adding that all of her work is safely locked away.
"I've always liked jewelry -- art pieces and ethnic pieces. And jewelry making is what I love," she says. "Now it's so fascinating to go to a show and people really like your work and really appreciate it."