By Ryan Hines
rhines@dailystandard.com
When does losing in the state title game become a disappointment?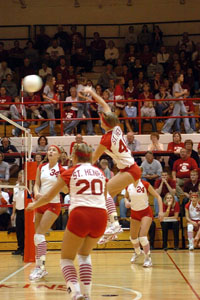 Only when you have a tradition like that of the St. Henry volleyball team.
Last year St. Henry was beaten by Centerburg in two games in the state final, but the Redskins are back at state this year looking for the sixth state volleyball title in school history.
The bad news for Kalida (26-0), Frankfort Adena (23-4) and Norwalk St. Paul (23-2) is that St. Henry appears to be loaded with enough talent and experience to make the dream of a sixth state title a reality this weekend.
Most teams are just thrilled to make it to state in any given year, but at St. Henry, the girls look at the walls in the gymnasium and see the past success of other Redskins teams and know that the spotlight is always on them. "The tradition of St. Henry volleyball is to win," said St. Henry senior Cami Lefeld. "People expect us to win each and every year and to always do good each year and we know that."
"We almost felt like we were coming home losers even though we lost in the state final last year," said senior Danielle Everman. "We did lose, but there are other teams that would love to have made it to the state finals like we did last year. We expected to win and people expect us to win, but that's not what we did."
The disappointment from last year's loss in the state finals gave the Redskins plenty of motivation for this season according to team leader and senior Lindsay Puthoff.
"We were all disappointed last year losing at state and we talked about how much we want to win it all this year," said Puthoff. "We decided right then and there (at state) that we were going to take it (state title) home this year. We are working so much harder this year because of what happened last year being so close."
"The experience from last year is nice for this year," admitted head coach Lori Schwieterman. "We have only four girls on this year's team that weren't directly involved with last year's team that made it to state. It's certainly a luxury as a coach to have a team with much experience in a state situation because they'll know what to expect."
Lefeld also pointed out that motivation this year hasn't been a problem for the Redskins.
"Most of the girls this year had something to do with last year's team, so we are all motivated this year to win it all," said Lefeld. "We worked hard last year and came up just short so we are working that much harder this year. We know how the losing side feels and now we want to have the feeling of winning it all."
The feeling of winning it all on the state level for St. Henry hasn't happened since the 1995 season but it's not like the Redskins haven't had their chances. Since 1995, the second of back-to-back state titles, St. Henry has reached the state tournament on four other occasions finishing runners-up in 1996 and 2003 while losing in the semifinals in both 1998 and 1999.
"When we won state in 1995, we were all up in the stands as kids saying that's going to be us someday playing at state when we get to high school," said senior Christa Schwartz. "We have always wanted to win just like the girls ahead of us even when we were kids. We were all up in the stands trying to emulate what the high school girls do. We would all do our hair like them and stuff like that. ...Now we have another chance at a state title and we want to win it all this time."
Having coached as an assistant on other St. Henry volleyball teams that have won state, Schwieterman is still looking for her first as a head coach and the seniors are primed to make that happen.
"We want to win the state title and have coach look back at our team in the future and say that our team as the one that won her first title as a head coach," said senior Lanee Mikesell.
Should St. Henry win the state title this weekend, it no doubt will be because of the relationship of the eight seniors on the team and experience that they have had playing together since grade school.
"We've all been playing together since sixth grade and we are all really good friends," said senior Maria Wuebker. "We know each others patterns on the floor and we know what to expect from each other. We all have confidence in each other that when any of us step on the floor that each person will do their job."
Having a team with so much drive, chemistry and experience has made this season fun for both the players and the coaching staff.
"This is a dream job," admitted Schwieterman. "I've coached at other schools around the state but when you are at St. Henry, you expect big things from these girls and they deliver. DeDe Stoner put it best when she said 'When a St. Henry volleyball player gets cut you bleed little Red and White volleyballs.' Having grown up here and played here, you just know the passion for volleyball from people around here."
"It's been a really fun year here and we want to end it right this weekend," concluded Everman.

Phone: (419)586-2371, Fax: (419)586-6271
All content copyright 2004
The Standard Printing Company
P.O. Box 140, Celina, OH 45822