By Shelley Grieshop
sgrieshop@dailystandard.com
Four Immaculate Conception students learned the true meaning of giving this holiday season when they embarked on a recent trip to the Appalachian mountains of Kentucky.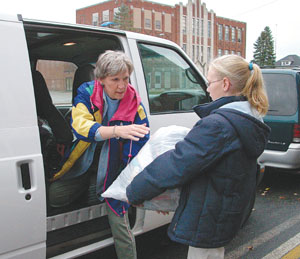 The children from the Catholic elementary school in Celina were chosen, after writing compelling essays, to accompany school staff to deliver children's clothing to the less fortunate youngsters of Wolfe County, Ky.
Mitchell Ross, Nathan Loughridge and Zoe Kriegel, all 11, and Caden Hellwarth, 10, described what they saw as they approached the region near the Catholic Church of the Good Shepherd:
"I saw a lot of mobile homes in Campton and a lot of adults without the nicest clothes," Loughridge says.
"Many people, we were told, lost their jobs when the coal mines closed years ago. Their church was really little and the clothes shop wasn't very big either," Hellwarth adds. The only girl on the trip also found the housing much different from her home: "When we were driving, I saw a guy with a camper and he had built a porch on it; you could tell it was his house. He was starting a fire outside and you could see lots of smoke from other houses," Kriegel says. "I guess that's how they heat their homes."
Says Ross: "Not all the houses were run down but probably 90 percent were bad with siding off and stuff like that."
Each year since 1992, the school has sent children's clothing and other donated items to the small church, explains school principal Kathy Mescher.
"We send a notice home in the fall and within a week or two, we have almost more boxes and bags of things than we can haul down there," she says. "Some of it is brand new, complete with receipts."
The clothing drive began when one of the Sisters from the Kentucky church visited IC about 14 years ago and mentioned the need for clothing, especially cold weather items, for the children of her parish. Within two days, the nun was driving back home with a full van, Mescher says.
Each year since then, four students from fifth and sixth grade are chosen from essays they write giving their reasons for wanting to make the trip. Loughridge, like most children, had trouble at first picturing children living without the things he takes for granted.
"I can't imagine not having warm clothes when it's cold. I can't imagine not having food to eat when I'm hungry. I can't imagine not having shelter when it is snowing or raining," he wrote.
Ross' essay defined the difference between needs and wants.
"I don't realize how lucky I am, and that when I say I 'want' something, there are other people who 'need' something," he penned.
Kriegel was sure the trip would change her outlook on life for the better.
"I think that if I go, I will come home with a better peace of mind," she wrote in her essay.
Hellwarth wrote: "I am here begging for toys, they are probably begging for a nice sweatshirt to replace their old, worn-out one."
After collecting items for little more than a week, the massive pile of donations nearly filled the hallway at the entrance to IC school. Then, eight days ago, the children hauled countless bags filled with shirts, shoes, boots and coats into every nook and cranny of one very full Astro van.
Throughout the five-hour drive last Friday, the youngsters commented on the beauty of the scenery, says chaperone Sherry Reineke, a fifth- and sixth-grade teacher at the school. But as they approached the poverty-stricken region, they began to notice other things not so scenic, like a creek where a lawn chair and other large pieces of trash had been dumped.
Together they spotted the local school up on a picturesque hill.
"It looked just like ours," Loughridge says.
Since returning, the children have recounted over and over how lucky they feel to have brought an "early Christmas" to kids just like themselves. They say they've also discovered the true meaning of God's commandment "love thy neighbor."
"I felt like I grew in faith just seeing how others lived and knowing that we can all do something to help," Ross says.