By Margie Wuebker
mwuebker@dailystandard.com
Vicky Dysert and Anita Jutte share a common bond even though the two hospital employees have never met. Both are involved in various stages of treatment after being diagnosed with breast cancer.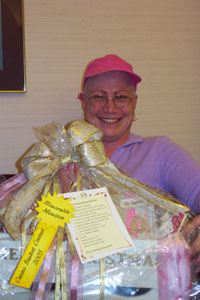 Their courage and determination have prompted co-workers to assemble gift baskets that will be among those going on the auction block Saturday during a Casino Night fundraiser to benefit the Grand Lake Regional Cancer Center in Celina and the Hi-Point Regional Cancer Center in Bellefontaine. The 6:30 p.m. event takes place at Romer's at Westlake in Celina.
Dysert, a patient accounts employee at Joint Township District Memorial Hospital in St. Marys, discovered a mass in her breast early this year.
"I had been working on the computer and my hands got cold," she says. "I crossed my arms across my chest and that's when I felt it."
A subsequent mammogram produced negative results while an ultrasound showed something resembling a dry brush stroke. A biopsy performed May 12 confirmed a malignancy and indicated involvement of one of 15 lymph nodes tested. "The surgeon told me he had removed a mass the size of an egg," she says. "I assumed that he had taken the whole thing; learning more surgery would be needed came as a blow. When the doctor left the room, I ran out of the office crying."
Dysert faced two options -- lumpectomy or a modified radical mastectomy, which removes the breast and some of the lymph nodes under the arm. She underwent the latter procedure May 24.
"I remember trying to decide and asking God to help me," she says. "I was shivering from the cold and then it felt like someone wrapped me in a warm blanket. I made my decision and never looked back."
Dysert chose to have the surgery performed at Joint Township, where she has worked the past 23 years. She went home two days later determined to overcome the formidable opponent as cheerfully as possible. At the age of 50, she intends to grow old with her supportive husband and see their grandchildren reach adulthood.
In the days following surgery, she found a Bible verse that has become her creed. The passage from Proverbs 17:22 proclaims "A cheerful heart is good medicine; a broken spirit will make you sick."
Jutte, a surgical nurse at Mercer County Community Hospital in Coldwater, never expected to be a patient on the operating table.
Like Dysert, she underwent annual mammograms and examined her breasts regularly. That is why the discovery in September 2002 at the age of 39 came as such a surprise.
"I was taking off my blouse in preparation for a shower when my hand brushed across something," she recalls. "It was a lump above one breast."
An ultrasound led to a biopsy with laboratory tests indicating the presence of cancer. Jutte could read the verdict in the surgeon's face before he uttered the words. The news came as a shock considering there was no history of breast cancer in her family.
The registered nurse chose to have a lumpectomy as well as a procedure called sentinel node biopsy, a procedure involving the injection of dye to check whether malignant cells have spread to the lymph nodes. The biopsy indicated the disease had not spread.
Jutte went to a Dayton hospital for the procedures. Her surgeon removed the lump and found another in the process. Treatment involved chemotherapy and radiation.
"I went to Dayton because Community Hospital did not offer sentinel node biopsy at the time," she says. "Now three surgeons are trained in the process so women can have it done right here instead of traveling to a larger city."
Dysert, who wears a bright pink hat decorated with an angel pin to hide her baldness, will complete chemotherapy in late December. The pin was a gift from a friend who is battling a third recurrence of the disease that strikes one in eight women.
"Oh how we take hair, eyebrows and eyelashes for granted," she says with a sigh. "Mine came out by the handsful and my husband offered to buzz the rest. We both cried as the last locks hit the floor."
Dysert chuckles recalling a recent chemotherapy session where she and two other women compared varying degrees of baldness. A woman whose baby soft hair now measures an inch long won hands down. The incident has been added to a journal which traces the road to recovery.
"I will say this journey is not one that I am enjoying," she points out with a smile. "It has made me aware of how much I am loved and how much we can take our everyday health for granted."
Jutte also counts her blessings. She, too, has support from her husband, children, co-workers and the people in her church.
"I couldn't have faced this without some very special people including the doctors and nurses here at Community Hospital," she says. "They have laughed with me and cried with me."
The staff conspired to make her last 15 days of radiation treatments memorable by bringing one humorous gift each day. She quickly adds the nature of those gifts are best left to one's imagination.
"My life is good," Jutte says. "God has blessed me with a wonderful husband and two healthy kids. I saw a young woman in Dayton facing surgery and treatment as a newlywed with no children. You can always look around and see someone facing a greater challenge."
Both women encourage others to have an annual mammogram and to perform monthly breast self-examinations, pointing out early detection saves lives.
"Cancer is very curable if it is caught early," Jutte says. "Although I won't be considered cured for five years, I am a cancer survivor."