By Ryan Hines
rhines@dailystandard.com
A dominating service game was the difference for St. Henry in the Division IV state semifinal game on Friday at the Ervin J. Nutter Center on the campus of Wright State University.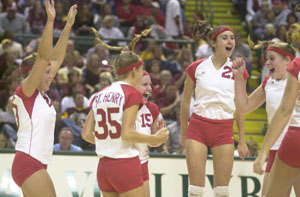 St. Henry recorded 18 aces in a dominating performance over previously undefeated Kalida as the Redskins defeated the Wildcats in three games, 25-17, 25-21 and 25-5.
The Redskins (25-3) advance to today's Division IV state final at 4 p.m. against Norwalk St. Paul (24-2), which defeated Frankfort Adena in four games. Kalida ends its season at 26-1.
Service was the difference for St. Henry. The Redskins recorded 18 aces and when the serves weren't aces, Kalida never could pass well enough to consistently set up its offensive attack.
"We knew coming in that they had a strong service game and we wanted to limit them to just one or two points on each service attempt, but obviously that didn't happen," said Kalida head coach Jeremy Stober. "We didn't pick up on our passing like we wanted to and their jump serves took its toll on us and we never recovered. We were never able to be consistent on serve reception and we just lost confidence after that." "We had a big advantage in the service game tonight," said St. Henry head coach Lori Schwieterman. "We got a lot of points off of our aggressive serving and we got some points off of their service mistakes. We didn't play our best in all areas, but our serving was the big key for us."
Leading the way in the St. Henry serving attack was junior standout Kayla Lefeld, who recorded 10 aces herself via a powerful jump serve.
"I've done better once (12 aces) but having 10 in a big game like this is exciting," said Lefeld. "I could tell during the warmups that it was working well and it just carried over to the game. The main thing for me is just to keep it inbounds and get it over the net."
"She has a great jump serve and it has great top spin but she also varied the depth on the serves and that kept us from getting a good read on it," said Stober. "She would serve some at the 14-foot mark behind the net and then she would rip one off at the 28-foot mark. She just did a great job of mixing up where the serve went and that's one reason why she is an All-Ohio player."
"Kayla just did a super job with her jump serve today," said Schwieterman. "She just lets it go and when it's in, it's deadly. This is the best that I remember her serving and I don't remember any runs like the ones that she was able to put together today. I don't know if she knows where it's going when she serves it but the bottom just seems to fall out."
Also serving up aces for St. Henry were Lindsay Puthoff with three, Lindsey Thobe with two, Christa Schwartz with two and Maria Wuebker with one.
Not only did Kalida have trouble returning most of the St. Henry serves, but the Wildcats also struggled to get its service game on track with eight service errors.
Leading just 4-3 in the first game, Schwartz stepped behind the service line and won four straight points to force a Kalida timeout. Kayla Lefeld had a kill and Betsy Hoying had a kill along with two Wildcat errors to highlight the run.
St. Henry went on to score six of the next eight points to take a 14-6 advantage forcing Kalida to use another timeout. Kalida never got closer than five points the rest of the way before St. Henry settled for a 25-17 win in Game 1.
With the score tied at 5-5 in Game 2, Kayla Lefeld began her torrid service attack by winning nine straight points, including six aces. However, Kalida made a nice rally by scoring on 11 of the next 14 points to get within one point at 17-16.
St. Henry survived the Kalida run and held at least a two-point lead the rest of the way before winning Game 2, 25-21.
In Game 3, it was all St. Henry from start to finish as Kalida was obviously still reeling from losing the first two games.
After jumping out to an 8-4 lead, St. Henry put the game away behind the serving of Schwartz. Schwartz won the next eight points on serve along with the hitting of Kayla Lefeld, Hoying and Linday Puthoff. Lefeld, who also led all players with 11 kills, hammered home three kills during the spurt while Hoying and Puthoff added one apiece.
Kalida had no answer like the one displayed in Game 2 as Kayla Lefeld stepped behind the service line and took the lopsided score into blowout victory. With St. Henry clearly in control at 17-5, Lefeld won the final eight points off of her service, including two more aces, for a spectacular 25-5 Game 3 win. Hoying had three kills also during the run.
The three-set sweep by St. Henry ended a record-setting season by Kalida as the Wildcats set school records for wins in a season, wins in a row and for making the state tournament for the first time in school history.