TROY -- Turnovers are often cited as keys to a football game, but what happens after turnovers often makes the biggest difference.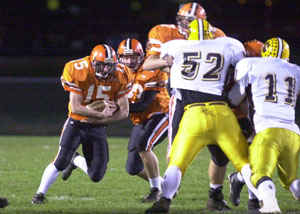 The Versailles Tigers converted three Kenton Ridge turnovers into scores Friday night and went on to post a 28-0 win over the Cougars in Division IV regional semifinal action at Troy Memorial Stadium.
The Tigers, now 9-3 on the year, move on to a regional final matchup with Jonathan Alder, which defeated Reading Friday night by a score of 35-7. The site for next Friday's game will be determined by the OHSAA and released Sunday afternoon. Kenton Ridge ends its season with a 10-2 mark.
The Cougars got the game's first break early, as Tigers quarterback Tony McNeilan coughed up the ball and the Cougars recovered at the Tiger 49. After allowing two first downs, though, the Tigers clamped down and held on a fourth-and-two play deep in their own territory.
The Tigers got another defensive stop on the Cougars' next drive, but this one was even bigger. Tiger senior Brian Dapore rushed untouched through the line and blocked a Cougar punt, giving the Tigers the ball at the Cougar 29-yard line. "We worked all week on that, because we thought we could block a punt," said Versailles coach Al Hetrick. "Brian's a senior leader and he went in there and got it to get us kick-started."
It took just two plays for Versailles to convert, as McNeilan hooked up with Curtis Wourms for a 15-yard gain and then threaded the needle on a 14-yard scoring strike to Wourms. Zac Richard's kicked the extra point to give the Tigers an early 7-0 lead.
On the ensuing Cougar possession, the Tigers got a turnover and a conversion on the same play. Wourms stepped in front of a Matt Brumfield pass and bolted up the sideline before reversing his course and angling clear across the field en route to a 32-yard interception return for a score.
It didn't take long after the halftime intermission for the Tigers to grab another turnover, as Jordan Rindler picked off a Brumfield pass and brought it back to the Cougar 29. Six plays later, Matt Murphy burst up the middle for an 11-yard score to give the Tigers a 21-0 advantage.
The Cougars attempted to counter, and used a 27-yard pass play on a fake punt to bring the ball deep into Tiger territory. Two plays later, though, Murphy came up with an acrobatic interception in the end zone to thwart the drive.
Versailles got its final score in the fourth quarter with a patented Tigerball drive. Beginning at their own 39, the Tigers used just five running plays to notch the final score, as Adam Francis scooted in from seven yards out.
After the game, Hetrick talked about his squad's opportunistic play.
"In the playoffs there are always going to be turnovers, and if you get one you've got to do something with it," said Hetrick. "Our kids played tough defense all night. (Kenton Ridge) is a fine football team, they haven't given up many points all year and they scored a lot."
Kenton Ridge coach Joel Marratta knew his team was facing a Tiger squad that could strike quickly.
"They're notorious for capitalizing on your mistakes," said Marratta. "On the blocked punt they saw something that they liked and they got to it and put us in a hole. We turned the ball over three times in the air and really shot ourselves in the foot."
Hetrick got an efficient night from sophomore signal-caller McNeilan, who completed just six of 11 passes, but more importantly, didn't throw any interceptions and threw the ball away when nothing was there.
"We've got a sophomore quarterback and teams are going to make him deliver," said Hetrick. "He made a couple of really nice plays tonight, and he's playing more intelligently as the weeks go by. He's growing up quickly."

Phone: (419)586-2371, Fax: (419)586-6271
All content copyright 2004
The Standard Printing Company
P.O. Box 140, Celina, OH 45822