By Janie Southard
jsouthard@dailystandard.com
ST. MARYS -- Waving flags, yellow ribbons and homemade banners, the standing room only crowd whistled, clapped and stomped their feet as 120 local Ohio National Guard Company A soldiers marched single-file into McBroom gym Saturday for the hometown farewell.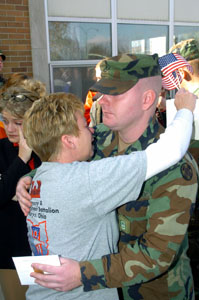 dailystandard.com">
Company A, 612th Engineer Battalion in St. Marys, Freemont, Tiffin, Norwalk and Walbridge, about 110 strong, will join 350 of their comrades deploying to Iraq for the next 12 to 18 months. Chartered buses left Saturday afternoon for Camp Atterberry, Indiana.
"I've never seen so much shine in our city as I do today. We've never shone any brighter," St. Marys Mayor Greg Freewalt told the troops during the hour-long ceremony that also featured Ohio First Lady Hope Taft.
But the stars of the day were the soldiers, many still teens, many older with toddlers in their arms. But all trained and ready to go.
"I thought I'd cry all day today. Tommy is the second of my two sons to go to Iraq. But my heart is so full of love and pride I'll save my tears," said Elizabeth Shefbuch, a Celina native, whose son Tom Sanford of New Knoxville will join brother Andrew in Kuwait. Andrew Sanford was scheduled to come home in December, but upon hearing his little brother is coming to Iraq, he requested a transfer to Kuwait.
"Can you imagine? Andy and I email all the time so I know how bad he wants to come home. But he told me he wanted even more to see that Tommy gets settled in right," Shefbuch said beaming with pride for her sons.
She could have used the Sullivan Act to prevent Tom from going (as the last son not engaged in war). "But there was no way, he is so ready to go. Plus Andy told me 'don't do it, Mom. We do our duty.' "
Hansel Lowe, 32, of Jackson Center has served in the Ohio National Guard since 1990 and is prepared to do his duty.
With daughter Megan, 7, snuggled against his neck, the tall soldier said after the ceremony he's been prepared to go to Iraq for a long time and expressed gratitude to his employer, Plasti-Pak, for giving him the time off to serve in the guard all these years.
As he talked with the newspaper reporter, he broke into a big grin when he spotted his boss in the crowd.
"Hey, man, thanks for coming. It means a lot," Lowe called.
Estevan Posada of Celina and his family attended Saturday's ceremony in support of his son, Steven, the first in his family to serve in a war.
"It's fantastic to see so much support for our troops. It makes you feel good," Posada said following the ceremony.
Steven Posada, 19, put his college studies on hold to join his battalion for the journey to Iraq.
Brooks Turner of Wapakoneta has been in the Guard for almost five years and joined to "give my life some direction."
Although he never imagined when he joined that his unit would be deployed to Iraq, he's prepared to "do a good job."
Tearful as were the majority of the soldiers leaving, Turner said he'd miss the little things, the everyday things and, of course, his mom and family.
Sandra Lockard, Turner's mom, said the unit has been preparing to go to Iraq for the past couple years.
"We'd hear they were going in a few months, but then they didn't. Then we'd hear again. I prayed this would be another of those times that didn't turn out, but now it's real," she said dabbing at the steady flow of tears that streamed down her face.
She said her family has spent a lot of quality time together over the past few weeks.
Many officials of local Veterans of Foreign Wars organizations were on hand to wish the young soldiers well.
Bill Bell, Spencerville VFW 6772, called the show of support for Company A "just great."
"When I left for Vietnam I was lucky to get a ride to the bus in Lima," he said.
Echoing Bell's good wishes, other veterans advised the Guard members to "use common sense and keep your head down."
Captain Kevin Bigenho, leader of the 612th in St. Marys, spoke from the heart to those gathered Saturday morning:
"I am honored and humbled by these young men and woman. We have been on active duty since Oct. 1 and it has not been an easy undertaking to prepare for this day. We move to the next stage as we depart for our mobilization site in Indiana where we will receive more training.
"I am proud and thankful to lead these soldiers. The very best people I know are here today," Bigenho said scanning his soldiers and the audience.