FAIRBORN -- The last time a St. Henry volleyball team held championship gold above its head was in 1995, its fifth state title under head coach DeDe Stoner. Stoner's assistant that year was Lori Schwieterman, who became head coach after Stoner's retirement following that championship game.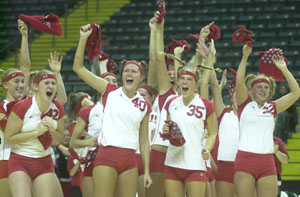 St. Henry (26-3) concluded a long-awaited sixth championship season by defeating 26-3 Norwalk St. Paul Flyers 25-15, 25-21, 25-17, to capture the Division IV 2004 state title at the Ervin J. Nutter Center at Wright State University.
Now, after nine years at the helm, Schwieterman will be able to look into the crowded volleyball trophy case at St. Henry and see a trophy of her own. The current crop of stars carrying on the legacy started under Schwieterman's program, and after a runner-up finish in 2003, put together a dominating season in their drive to the top.
"It's so sweet. I can't even describe it," Schwieterman said.
One of the three losses came to Division IV's fourth-ranked team, Lehman, and the Redskins avenged that one by beating the Cavaliers in the regional final to advance to the state. The other two losses came to Division I's fourth-ranked team Toledo Central Catholic and the Division I state champion, Toledo St. Ursula Academy, which on Saturday became the first Toledo school ever to win a state volleyball title. In addition, the Redskins were the only public school to capture a state title at the Nutter Center. "I think we were pretty relaxed when we went out there," said Redskins top gun Lindsay Puthoff. "We realized that we had to go on the floor and just play our game, and not try to do more than we can."
Rather than stay the previous night in the area, the Redskins traveled home to familiar surroundings. Schwieterman and Puthoff agreed that was a key factor for the team.
"I think that made a difference," Puthoff said. "We got some good sleep and and were rested. Last year, we stayed down here and some of us didn't get the sleep and rest we needed because it was strange surroundings."
In the very early stages of the first game, St. Paul got a quick lead, going up 5-1 on kills by Kate Schafer and Courtney Mockler, an ace by Katie Playko and a tandem block at the net by Mockler and Megan Centers. St. Henry cut it to 5-4 behind a block by Lindsay Puthoff, an attacking error and Puthoff's ace.
The score remained close until a hitting error by the Flyers gave the Redskins a 15-14 lead and sent Redskin junior Kayla Lefeld to the service line.
"We got the momentum there," Schwieterman said. "We took control and that (run) just separated us from them. I think when Kayla steps up, people start to play back on their heels and instead of making an aggressive pass, they're just glad to get the ball in the air. She brings the crowd into the game, especially after yesterday."
Lefeld's jump serve accounted for 10 aces against Kalida in the state semifinal on Friday and had been a major factor in the victory over the Wildcats. It was a safe bet that Norwalk coach Bill Cramer had taken notice of that. However, noticing a weapon and countering it are two entirely different things.
"It's the best jump serve we've seen," Cramer said. "That was also the best blocking we've seen this year. We talked a lot about not backing down and trying to tip a few balls to counter the block. The bottom line is they beat us. We gave a solid effort and they beat us."
Lefeld quickly added two more aces to her state resume to give St. Henry its biggest lead at 17-14. Lindsay Thobe and Betsy Hoying followed with kills, Lefeld hit another ace and Hoying and Lanee Mikesell combined for a block. Mikesell's kill and another Lefeld ace finished a nine-point run that increased St. Henry's lead to 23-14.
St. Paul picked up a point when Lefeld's next serve landed just out of bounds. But game point came quickly when Mikesell and Hoying combined for another block, and Maria Wuebker got the winner with the Redskins' sixth ace of the match.
Game 2 was much the same as the opener, with neither team separated by more than one or two points throughout the game.
Trailing 12-11, St. Henry lost the apparent tying point when the referee overruled a linesman on a baseline call. With the game tied at 18-18, St. Henry lost another point when the umpire overruled a different line judge on a call near the net.
Three big plays at the net by Puthoff put the Redskins in front 21-19, and another Puthoff kill gave St. Henry a 22-20 lead. St. Paul got a single point back before Lefeld stepped to the fore again.
Kayla's kill put St. Henry in front 23-21 and put Puthoff on the service line. Lefeld's successful attack made it game point at 24-21, and her block at the net gave the Redskins the second game at 25-21.
In Game 3, a kill by Cami Lefeld and Lindsay Thobe's three successive service aces gave the Redskins a 4-2 lead, and a pair of kills by Hoying, Mikesell's block, Kayla Lefeld's kill and back-to-back hitting errors by the Flyers extended the Redskins' lead to 10-4.
St. Henry pushed its lead as far as 15-8 before St. Paul rebounded to close the gap to 16-14.
Four Flyer hitting errors and a combined block by Hoying and Cami Lefeld made it 21-14. Kayla Lefeld registered a kill to make it 23-15 and Mikesell's kill made it match point at 24-16.
Norwalk picked up a single point on a play at the net and Hoying was there on the next play to slam home the winner and cap St. Henry's championship year.
"Not everyone's going to win a state championship. I'm really happy with our girls, we faced a state championship team out there," Cramer said. "We worked hard and played hard all year, and like they said after the match, there's over 200 Division IV schools and two of them were here today."
The kill totals for the game was actually close between the two teams, but it was attacking errors (eight for the Redskins, 29 for the Flyers) and blocks (St. Henry with a 15-1 edge) that ultimately spelled the difference.
"We did a great job of distributing the ball and we really kept our errors down," Schwieterman said. "Everyone stepped forward and did their job. Lanee and Christa (Schwartz) got the ball to everybody and Kylie (Elking) did a great job of digging out hits today."