By Margie Wuebker
mwuebker@dailystandard.com
MINSTER -- Virgil and Martha Arling have been called Mr. and Mrs. American Legion/Auxiliary on occasion.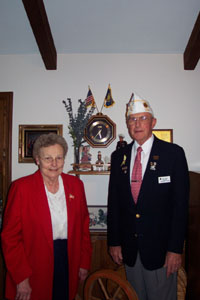 The couple doesn't mind in the least. They share a commitment to the organizations that represent and support veterans who served in times of conflict.
His membership in Minster American Legion Post 387 dates back 43 years. She became involved in the auxiliary unit nearly 36 years ago after raising their eight children.
"I did some volunteer work for the post (pouring concrete and laying sidewalk)," the retired Minster village administrator says. "The guys gave me a one-year membership in appreciation and I've been hooked ever since."
He has held every office except adjutant and served 13 years as post commander. Additionally, he served four terms as commander of the Second District, which includes Mercer and Auglaize counties. "Some people have suggested I become state commander," he says. But, "at 72, I am too old to start and there is an awful lot of travel involved."
Virgil Arling did trade his navy blue Legion hat for a white one denoting state office some years ago. As historian, he chronicles activities of posts throughout Ohio and compiles a set of scrapbooks -- one for the commander and the other for the department library.
"An incoming state commander asked me to take the office of historian," he says with a chuckle. "I didn't know a darn thing about what was involved but Martha and I learned pretty quick."
The Arlings are in the process of compiling their seventh scrapbook in accordance with National American Legion standards. They initially produced one every other year but the project becomes annual in 2005.
They receive correspondence and photographs from posts throughout the state detailing activities, accomplishments and milestones. Everything is neatly arranged in folders until the time comes to assemble the book. Martha Arling oversees that aspect with son-in-law Bill McCroskey of Sidney providing computer expertise.
"We strive for uniformity and a formal look," she says. "Mention scrapbook these days and people assume it includes cutouts and stickers. We prefer the formal look with everything dated and everybody appearing in pictures named because we are literally documenting history."
The Arlings know their stuff -- each of the Department of Ohio scrapbooks they compiled has taken first-place honors in national competition.
His American Legion activities involve more than scrapbooks. Each summer he heads to Buckeye Boys State, the largest government-in-action workshop in the nation, as a commissioner. He continues to serve as Americanism vice president on the national level and has attended every national convention since 1992. In addition, he represents the Minster Veterans of Foreign Wars Post on the Veterans Services Commission.
"Our circle of acquaintances grows each year," Martha Arling says.
Martha Arling has left her own mark on the American Legion Auxiliary, with 17 years as local unit president and four years as Second District president. She currently serves on the state level as chairman of the Americanism and Education programs. Reports from every unit secretary in the state come to her on a regular basis.
The grandmother of 14 is an advocate of the auxiliary's scholarship program and encourages unit chairmen to spread the word about the monetary assistance available to eligible college-bound youths. She especially enjoys looking through the completed forms, marveling at the accomplishments and dedication of the teenage applicants.
The Arlings have collaborated on many projects over the years; the most interesting, they said, involved sorting through stacks of memorabilia when the department offices moved to a new home. Among the items they found was a stack of fragile onionskin paper bearing the history of the state organization from 1919 to 1945.
Numerous awards adorn the walls of their office. Waiting to be added to the display is the large plaque he received Nov. 3 during his induction into the Ohio Veterans Hall of Fame. The U.S. Marine Corps veteran of the Korean War was one of 19 inductees honored for their contributions to the state and nation.
"I couldn't do it all without Martha," he says. "We make a really good team."
Phone: (419)586-2371, Fax: (419)586-6271
All content copyright 2004
The Standard Printing Company
P.O. Box 140, Celina, OH 45822