By Kelly Braun
kbraun@dailystandard.com
VAN WERT -- Doug Eblen of Celina took home a top award during the annual Member Show and Sale at Wassenberg Art Center.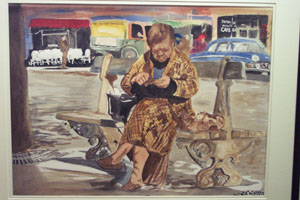 Eblen's watercolor, "A Stitch in Time," won the Douglas Koch Memorial Award and is one of eight of his paintings for sale at the show.
The art center each year pre-sents a show where its member artists can display and sell their pieces. The show runs through Dec. 17.
"This year's show is truly spectacular," Director Michele Hiegel said. "We have over 200 works of art on display. Our members really came through for us this year."
Pieces include paintings, drawings, pottery, jewelry, photography and sculpture, ranging in price from $20 to $1,400. Hiegel noted the show is open to all artists, but most of this year's pieces are from professionals.
"We were just amazed when the pieces started coming in," she said. "Many of the artists are new to the show and some are from out of state."
Artists from Illinois, New York and Indiana are selling works in the show.
Along with Eblen, other local winners include Merit awards to Pete Temple of Celina for his ink drawing "Innocent Kiss?" and Ralph Stuckman of Celina and Pat Rayman of Ohio City for their collaboration on the piece of pottery "Tulip Garden." An Honorable Mention went to Leigh Barr of New Knoxville for her photograph "Last Strokes of Light."
The local artists also have several other pieces for sale at the show.
The center, located at 643 S. Washington St. (U.S. 127), is open 1-5 p.m. Tuesdays through Sundays.
Phone: (419)586-2371, Fax: (419)586-6271
All content copyright 2004
The Standard Printing Company
P.O. Box 140, Celina, OH 45822