By Margie Wuebker
mwuebker@dailystandard.com
A Saturday visit by agents from the Ohio Investigative Unit of the Department of Public Safety began on a routine note, but ended up with Club Oasis being shut down for the remainder of the evening.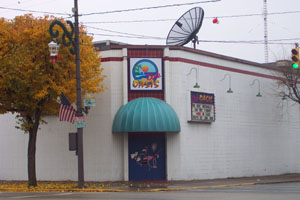 An employee was arrested during a confrontation with one of the agents.
Celina Police responded to the 201 S. Main St. bar at 11:46 p.m. to assist agents. They reportedly found no sales to underage patrons but did spot several sanitary violations, according to Celina Police Chief Dave Slusser.
A subsequent altercation took place between bartender Kevin Hole, 40, 802 Kensington Lane, Celina, and an unidentified agent.
A second confrontation also resulted between Hole and a uniformed police officer who had been assisting agents. Hole was charged with obstructing official business and resisting arrest. Another patron, Jesse Bricker, 24, 43 Ann Arbor Ave., Celina, was cited for disorderly conduct.
Both men are scheduled to appear today in Celina Municipal Court.
This marks the second time in four months that Club Oasis was shut down early as a result of a visit by Liquor Control agents. In late July, a routine visit led to citations being filed against two employees and two patrons. In addition, the establishment was cited for selling or furnishing intoxicating liquor to someone under the age of 21, sale of beer to an intoxicated person, having more than two fixed bars or counters on the premises and solicitation for anything of value.
In both cases the establishment opened as usual during the following days.
The bar holds promotional events including wet T-shirt and dance contests to name a few.
Phone: (419)586-2371, Fax: (419)586-6271
All content copyright 2004
The Standard Printing Company
P.O. Box 140, Celina, OH 45822