SIDNEY -- St. Henry's 41-7 regional championship victory over East Clinton was not an indication of a good team clubbing on a weak team.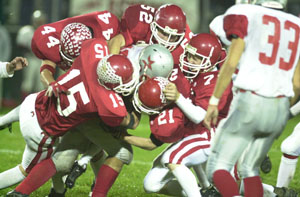 The Astros (11-2) deserved to be there. East Clinton averaged almost 43 points a game during the regular season and registered 73 points in the first two rounds of the playoffs. Running back Lester Robinson averaged over 130 yards a game during the season, while averaging two touchdowns a game. The only loss in the regular season had been a 21-14 defeat at the hands of Division IV playoff participant Clinton-Massie.
The difference was one of performance. The Redskins (12-1) simply elevated their game to a level the Astros couldn't match, setting up a state semifinal confrontation with Patrick Henry.
East Clinton couldn't get its ground game going, partly because of the Redskin defense, and partly because of a 20-point first quarter by St. Henry. The Astros rushed for minus 4 yards on just 12 carries, with Robinson being held to 18 yards on six carries, a three-yard average far below the 7.5 he recorded during the regular season. Even though East Clinton quarterback Billy Blackburn threw for 219 yards, many of his options on the outside were shut down by the Redskins' bookend 6-7 defensive ends, Alan Hartke and Toby Boeckman, who combined to bat down three passes, intercept one and force a fumble, each of which led to Redskins' scores.
"St. Henry's linebackers got into the passing lanes, and those two big ends cut down other lanes," said Astros' coach Andy Helms. "It's tough to find passing lanes anyhow, and they make it even harder. It was disappointing that we had to be one-dimensional after falling behind that quickly." The Redskins intercepted Blackburn five times on the game, with Werling picking off two, and Ross Niekamp grabbing one. Andy Puthoff ran one back for a score and Boeckman stopped an East Clinton dive inside the Redskins' 10-yard line with a pick. The Astros' signal-caller had been picked off only six times during the regular season. The Redskins held the Astros to zero yards or less on 27 of East Clinton's 57 offensive plays.
"It may have been a combination of the weather and our size," Redskins' coach Jeff Starkey said of the five interceptions. "It's tough to throw over those guys. We've got two big defensive ends and two athletic defensive tackles (Kalen Hemmelgarn and Corey Everman)."
East Clinton's series to open the game set the tone for the night. After a muffed kickoff put the Astros on their own eight-yard line, Blackburn started with two incomplete passes and Robinson gained a single yard on third down. The punt was apparently partially blocked by Redskins' lineman Mark Thobe, and bounced out of bounds at the 10-yard line.
"With our style of offense, it puts a lot of pressure on a defense if we can get the ball that close," Starkey said.
Four plays later, Jon Hemmelgarn bulled over from the two-yard line for the game's first score and Jon Clune added the point after for a 7-0 lead.
Blackburn dropped to pass on the first play of the next possession and Redskin sophomore Josh Werling made a diving interception of the tipped ball to give St. Henry the ball on the East Clinton 29-yard line.
Hemmelgarn broke off the right side for 27 yards, setting up Puthoff's two-yard score.
The Astros' punting game let them down again on the ensuing series. East Clinton drove into St. Henry territory and with a chance to pin the Redskins deep in their own end, Shawn Patterson's punt covered a mere 16 yards and the Redskins started their third possession on their own 25.
St. Henry quarterback Nate Stahl directed a 12-play drive that culminated in Hemmelgarn's second score, a four-yard touchdown run that improved St. Henry's lead to 20-0 with 2:05 left in the first period.
"It's really difficult to use all of your weapons, when you dig yourself a hole like that," Helms said. "When you fall that far behind, that early, it's really difficult to come back like that."
East Clinton turned the ball over four times in the second period, with the latter two converted into scores. Blackburn's screen pass to Robinson was stripped loose by Boeckman and recovered on East Clinton's 17 by Kalen Hemmelgarn.
Two runs by Jon Hemmelgarn took the ball to the two-yard line and Puthoff followed a strong push by the Redskins' offensive line for his second touchdown and a 27-0 lead.
The nest turnover came on an interception by Niekamp and Stahl moved the 'Skins down field through the air, with a nine-yard completion to Brady Schmitz taking the ball to the 35-yard line. Jon Hemmelgarn covered the remaining 35 yards and Clune booted another extra point to give the Redskins the 34-0 lead they carried into halftime.
The second half and 34-point lead kept Jon Hemmelgarn on the sidelines as the Redskins wanted to protect on their biggest weapons.
"He was on the side, helping with substitutions," Starkey said. "I told him at halftime that we'd start with Kyle Bruggeman. Kyle's a good tailback. Jon wanted to go in a couple of times, but he knows better."
Although East Clinton got on the scoreboard midway through the third period on a 27-yard scoring strike from Blackburn to Patterson, it wasn't enough.
The Astros' next series after their score ended when Boeckman got a big hand up to knock down Blackburn's fourth down pass.
The Redskins drove to the Astros' seven-yard line behind second team quarterback Doug Griesdorn, but couldn't convert on fourth down.
Blackburn again went to the air on first down, but Puthoff stepped in front of the pass, tipped it and then grabbed it, taking it 19 yards for the game's final score.
A personal foul on the Astros pushed them deeper into their own end and forced a punt. Tony Eyink stormed through the Astros' line to record the Redskins' second blocked punt of the night, and second-teamers from each team finished the final seven minutes.
"They (Redskins) just made the plays they had to make," Helms said. "St. Henry played a great game."