By Shelley Grieshop
sgrieshop@dailystandard.com
Rosie Gray used a rubber spatula to remove the fluffy mashed potatoes from the sides of the Paul Bunyan-size vat in the Celina High School kitchen.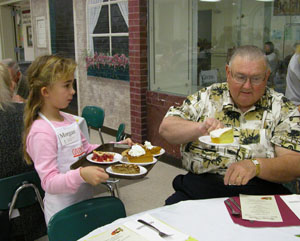 All around her, men, women and teenagers scurried to keep production going as hundreds of people trailed in and out of the school cafeteria for the sixth annual Giving Thanks dinner Thursday.
"My first year, I just stood here and cried, I was so overwhelmed by it all," said volunteer Rick Nurrenbrock as he greeted the guests coming in from the cold.
Tired of the traditional "eating 'til your stomach hurts and watching TV," he and hundreds of others have turned to serving up turkey and fixins' and a big helping of hospitality to those who need it most during the holiday season.
Giving Thanks, a non-profit organization, debuted in 1999 with Celina Realtors Phil and Lynn Cozadd and orthopedic surgeon Dr. James Kemmler of St. Marys at the helm. The idea was simple: serve the traditional Thanksgiving feast -- at no cost -- to the needy or those desiring a little companionship to get through the holiday. People of all ages, many on fixed incomes and barely able to make ends meet, enjoy a warm meal with servers waiting on them hand and foot. But not all the diners come out of financial need. Some of the people attending Thursday said they came because they couldn't travel to be with family this year; others were spending their first holiday alone following the death of a spouse.
Nurrenbrock and fellow volunteer, Mary Beougher of Rockford, recalled one year when a woman and her two children arrived from a local motel. Down and out, they were tired of eating bologna sandwiches and found much more than food when they arrived.
"They ate and were loaded up with food before they left. Phil and Lynn even helped them find housing," Beougher said.
Last year, a little boy about 7 or 8 years old dragged in a container of pennies to donate for the dinner, Nurrenbrock said. One area doctor used to come in and donate time blowing up balloons for the kids. "The stories just go on and on," Nurrenbrock added.
In the first year, Giving Thanks organizers fed about 282 at the Celina school; this year the numbers totaled nearly 1,070 for eat in, carry-out and homebound deliveries from the Celina location. In 2000, the idea was successfully launched in St. Marys (with help from the Celina program) and Celina organizers continue to fund a similar Thanksgiving feast at a Montezuma church each year.
Donations, of course, are the key. Cooper Farms donates a portion of the turkey roasts made each year by volunteers. Other items, too, are partially donated with costs picked up by money donated from area businesses, families and organizations, the Cozadd's said.
It's nearly impossible to count the number of people who bake pies or make creative salads, the Cozadds said.
"We're just thrilled with its success," said Lyn Cozadd, adding it's as beneficial for the needy as it is for the many volunteers.
"Every volunteer has a different reason for helping," she said. "For many of us, it gives us a reason to think of someone else for four hours."