By Gary R. Rasberry
grasberry@dailystandard.com
DAYTON -- As the celebration began for the Versailles football team after the 14-0 win over Coldwater, Curtis Wourms, one of the last players through the handshake line, leaped high into the air and knocked down fellow running back Adam Francis to the artificial turf of Welcome Stadium.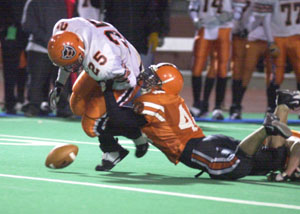 Considering how he was able to weave his way through the Cavalier defense on the evening, it appeared the only time he was kept from going much further than he could.
The Tiger junior was unstoppable in putting up 111 yards -- which also put him over 1,000 yards for the season -- and scored both of Versailles touchdowns in getting a little bit of revenge from the earlier loss to the Cavaliers this season.
While Wourms did get yards in the first meeting, rushing for 71 yards and scoring the lone score in that game, this time was much more important.
Wourms didn't notice anything different the Cavaliers did or didn't do, but he certainly could from his team. "They were about the same," said Wourms. "We just stepped it up on defense and played all four quarters, which wasn't something we did the first game.
The tandem of Wourms and Francis, who also went over 1,000-yards on the season with an 87-yard night, wreaked havoc on the Coldwater defense.
Wourms credited the play of the line, which did not get called for any penalty worse than a quartet of false starts in the first half.
"The line did a great job," said Wourms. "Adam, Russ (fullback Russ Beisner) and I ran hard all night. The line did a great job all night."
It was the run, 265 total rushing yards worth of it, that signaled the end of the Cavaliers' season. Once Versailles got the lead, it completely went with the run. Quarterback Tony McNeilan threw just one time in the second half -- appropriately a 29-yard strike to Wourms that helped set up the second touchdown run.
Running the ball and getting first downs, 20 overall, also meant keeping the clock in check. Versailles held the ball for over 34 minutes, allowing Coldwater just 13:44 of offensive playing time.
Versailles started the second half with a 6 1/2 minute drive that did not even go for points. Of the 34 minutes of possesion, Versailles's scoring drives took just a total of 7:32. The rest was just keep-a-way to not let Coldwater score.
"I think that set the tone for the second half," said Wourms of the opening drive of the second half.
Late in the game, Wourms noticed that Coldwater was looking for anything to get a rally going.
"We just kept pounding and pounding," said Worums. "We were just playing Tigerball."
Phone: (419)586-2371, Fax: (419)586-6271
All content copyright 2004
The Standard Printing Company
P.O. Box 140, Celina, OH 45822